Near The Star Of The Sea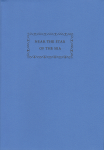 Details
2006 December Book UK Durtro Press London
200 Signed and numbered copies
26 pages
1st edition
Stiff blue wrappers
Chapters
Lament Terminal Eden (For Sebastian Horsley, undamned in the underworld)
Stabat Felix (for Squiggle)
The Market And Circus Is Now (For William Breeze with 93)
Notes
Two hundred copies of Near the Star of the Sea have been published to celebrate 10 years of Durtro Press. It has been hand-set in Bembo type by Alan Anderson and printed by him for David Tibet and Durtro. The frontispiece photograph was taken by Andria Degens in Hastings, East Sussex in October 2006.

David Tibet thanks Alan Anderson, Andria Degens, the three dedicatees of these poems and Amy Phillips, whose call and cry to the cars of her dreams was the initial inspiration for Lament Terminal Eden

Each copy has been signed by the author.