Teatro Grottesco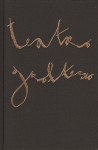 Details
2006 November Book UK
Durtro
London
344 pages
1st Edition
Pictorial cloth
Without dust wrapper
Chapters
Derangements
Purity...1
The Town Manager...21
Sideshow and Other Stories...37
The Clown Puppet...53
The Red Tower...65
Deformations
My Case for Retributive Action...79
Our Temporary Supervisor...97
In a Foreign Town, In a Foreign Land...117
The Damaged and the Diseased
Teatro Grottesco...157
Gas Station Carnivals...179
The Bungalow House...199
Severini...225
The Shadow, The Darkness...241
Dead Dreams
Things They Will Never Tell You...281
This Degenerate Little Town...307
Envoi...329
Notes
To Pam Willwerth Aue

All text and stories © Thomas Ligotti

Layout by Kat Cormie

Design by David Tibet and Kat Cormie

Calligraphy by Geoff Cox-Dorée

Published by Durtro Press

Printed by Antony Rowe
Teatro Grottesco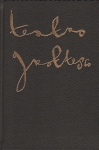 Details
2006 December Book UK
Durtro
London
150 Signed and numbered copies
344 pages
2nd Edition
Buckram boards
Without dust wrapper
Chapters
Derangements
Purity...1
The Town Manager...21
Sideshow and Other Stories...37
The Clown Puppet...53
The Red Tower...65
Deformations
My Case for Retributive Action...79
Our Temporary Supervisor...97
In a Foreign Town, In a Foreign Land...117
The Damaged and the Diseased
Teatro Grottesco...157
Gas Station Carnivals...179
The Bungalow House...199
Severini...225
The Shadow, The Darkness...241
Dead Dreams
Things They Will Never Tell You...281
This Degenerate Little Town...307
Envoi...329
Notes
To Pam Willwerth Aue

All text and stories © Thomas Ligotti

Layout by Kat Cormie

Design by David Tibet and Kat Cormie

Calligraphy by Geoff Cox-Dorée

Published by Durtro Press

Printed by Antony Rowe

Additional insert:

This limited edition of 150 copies of Teatro Grottesco is printed in purple ink and bound in buckram boards. 123 copies only are for sale.
It is issued to celebrate 10 years of Durtro Press.
Each copy of this leaflet is signed by Thomas Ligotti, author and David Tibet, publisher.