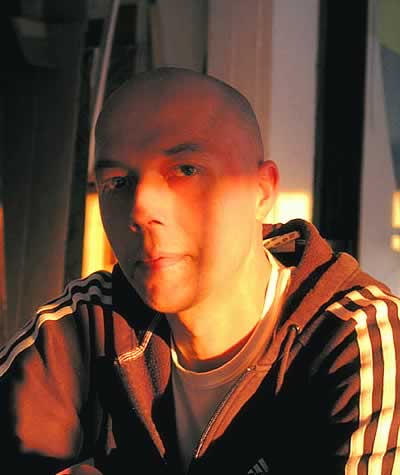 born in Aachen, Germany, November 2, 1964
Founder, Streamline, co-founder of DOM, and Three Poplars record labels.
Permanent member, Mirror, Mimir, HNAS, and In Camera with Timo Van Luijk (Af Ursin).
Collaborations include work with Current 93, Nurse With Wound, Organum, Jim O'Rourke, John Duncan, Merzbow, Seclusion, RLW, and John Hubbard.
Artwork includes album covers for Edward Ka-Spel, Tear Garden, Aeolian String Ensemble, Ragnar Grippe, and Ultra.
Other work includes production and assistance for Little Annie, Andrew Chalk, Faust, Pantaleimon, Limpe Fuchs, Keiji Haino, Roger Doyle, Lacroix Hotel, Empirical Sleeping Consort, Brise-glace, A Mouse Orchestra, NLC, and Duka Bass Band.
The Wire, Issue 162, 1997:
Christoph Heemann has long been the name to tussle with when debating the existence of Krautrock's avant rock legacy in Germany. His solo work has all the magical and evocative quality of the best imaginary soundtracks. Indeed, his album Aftersolstice was inspired by the films of Alain Resnais and Louis Malle, and the recent Days of the Eclipse by the late, great Andrei Tarkovski.
"Just like individual scenes create the whole of a film, I structure my releases as groupings of sounds which aim to form a thematic entity," explains Heemann. "Once I've conceived a project I select and process sound material to match the atmosphere and emotional qualities required by the "script". Like music, film is one of my constant obsessions, so it seemed natural to work from filmic ideas and transfer them into the sound medium."
His is a music you can really get lost in. "A central focus of my "ear-films" is to provoke the immersion into a sequence of events/emotions through sounds. As I would like to challenge the listener's imagination, I try to avoid the use of obvious narrative elements such as titles or liner notes."
In 1983, at the age of 18, Heemann co-founded one of the most mysterious and consistent post-Faust sound units, Hirsche Nicht Aus Sofa (literally Moose Without a Sofa). They first grabbed the attention of the underground via the release of the Steven Stapleton produced album Melchior on United Dairies. Heavily influenced by contemporaries like Nurse With Wound and Throbbing Gristle, plus dumb Stooge-punk, Terry Riley, UK Improv and classic Kosmische (Guru Guru, Kluster), HNAS constructed electroacoustic collages from found sounds, tape-loops, reverb and rock dynamics.
"Both Achim Flaam (aka Achim P. Li Khan, HNAS's other half) and myself had refused any musical education our upbringing had offered us," recalls Heemann. "Our interest in music was generated by the records we were listening to and the idea of using instruments in unconventional ways." Their skewed, non-musicianly approach took them down in the German sewers, where they recorded their debut album Abwassermusik (Psychout). Heemann and Flaam went on to launch their own Dom label, dedicated to the documentation of uncategorisable sound. A string of increasingly "out there" albums followed, culminating in the peaked broadcasts of Im Schatten Der Möhre (1987). "At this point," stated Heemann, "we were starting to collaborate with other artists like Steve Stapleton. This definitely triggered new inspirations and opened up a wider range of technical knowledge and possibilities. Around 1989 Achim and myself slowly became aware that we were trying to establish different aesthetic ideas through our efforts, and the initial excitement of discovering what we could realise together became diluted by the strain of living up to the absurdist expectation we had created for ourselves." HNAS always laced their experimentation with a sharp dose of humour, evident in their name and Heemann's eerily evocative cover art, populated with contorted beaky gulls, carrot heads and surreal, abstract caricatures. "There was certainly a predominant element of humour in HNAS," he confesses. "It was really just a way of coping with the embarrassment over our musical naivety and our general feeling of not fitting into the world around us."
In 1988, Heemann began a collaboration with Merzbow, called Sleeper Awakes On The Edge Of The Abyss, for Heemann's newly formed Streamline label. The experience had profound effect. "I had started to work with recordings that Masami Akita had sent to me for a collaborative project, and for the first time I really enjoyed the freedom of making my own compositional choices. Using the private studio we had founded in 1990 I was able to take the time which a piece or project really required."
With HNAS no longer being a full-time concern, Heemann went on to form Mimir, a heavyweight electroacoustic symposium featuring the likes of Jim O'Rourke, Edward Ka-Spel and Andreas Martin. Then he launched his solo career with the release of a 10″, Über Den Umgang Mit Umgebung und Andere Versuche, on Kevin Spencer's Robot label. "The idea of spontaneous creation was an important aspect of the HNAS working process: we would try to find a new approach for every musical situation, and therefore improvisation was one of the many facets we relied upon. In my own music, however, improvisation plays little importance. My solo compositions stem from personal processes and experiences."