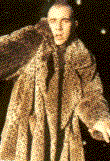 Born June 19th in Pontypridd, Wales as Timothy Lewis to a family of musicians. His grandfather being a conductor and mother, Dorothy Lewis an opera singer. He was frequently taken to classical concerts from an early age and studied French horn, church organ and piano. He was a member of the cathedral choir at Cathedral School in Llandaff, Wales as well as Christ College, Brecon, Wales.
But it was the cleaning lady who exposed him to pop music, the first album he purchased as a boy was Roxy Music's second album.
He had a strange band in school with odd combinations of instruments. Avant garde was normal to him even though he didn't care much for the concerts he went to. He has worked as a session musician for unmentionable acts as well as a recording engineer and spent 8 years working in a psychiatric hospital as a staff nurse. He eventually quit the day job.
As engineer, he met Julian Cope. They got along very well, both being Kraut-rock fans and Cope asked him to join his group. He has also been a touring member of Spiritualised and has worked with Jodie Evans of Anal.
In 1997, John Balance met Thighpaulsandra at a concert. Both had been fans of each other and Balance asked him to join Coil. Balance says "He is a wonderful bright Pagan STAR in his own rite and I are very happy he accepted my invitation. Now we are 5 sided.
Pentagrammatical.
Complete."