Since Yesterday: A Peek Into The Pit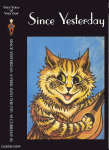 Details
1995 Video UK
Durtro
DURTRO029V
In regular case
Track Listing
Since Yesterday [ave93]
Christ and the Pale Queens Mighty In Sorrow (excerpt)
Happy Birthday Pigface Christus
(This Ain't) The Summer of Love
Messages from God
Sleeve Notes
Since Yesterday:Some Songs And Sighs For Children
1I) Since Yesterday. Film by Hänzel and Gretzel, 1995.
II) Japan: Christ And The Pale Queens Mighty In Sorrow (excerpt) - Happy Birthday Pigface Christus - (This Ain't) The Summer Of Love. Film by Guilloud, 1989.
III) Messages From God. Messages from God throughout eternity; centered at Saint Mary's Cemetery, Kensal Green, London. He returned to His earth.
Facefeatured on I are: David Tibet, Michael Cashmore, Douglas P., ROse McDowall, Joolie Wood and James Mannox. Stills from Paris 1993.
Notalone hole and open on II are: David Tibet, Douglas P., Tony Wakeford, Rose McDowall, Karl Blake and Ian Read cursing. This live footage was recorded in Tokyo at two concerts in 1988.
The picture of Louis Wain at the end of this film is Paradise. All texts are doors to Paradise, but not that Paradise itself. They are from the Very Voice of Very God, and are free therefore free to all free.
My thanks to all those who played as Current 93 and to: Space, Daniel Mangeon, Steven Stapleton and John Balance. And to World Serpent: eternally voracious.
David Tibet London 22.VI.1995
© Durtro 1995 (P) Ourobouros 1995
Who dared my cushion rare displace? Who my chair occupy? 'Twas in this mood I lived, and saw the light of magnificence. Rare plants gave a key of daintiness to the surroundings, and they, rich silks, brocades, and satin cloths, carpets and rugs that came from afar, carved woods of rare design - these and pictures too, lent a glamour to my interest. What was there beyond? Whence came these luxuries brought by seedy men of no remark? Whence? I sat Alone. It was my portion. Fed alone. It was my destiny. Whence these fine flavoured foods, this precious jug of cream, this ornate jug of silver? Daily a vision in silks, a thing of beauty, came into my room, admired and retired ere I could further enquire into the things beyond.
My pampered darling, the vision in silks, my mistress, called me. None dared displace my favourite cushion in the drawing-room. Roses filled the room with fragrance, dainty colours lent a charm to the surroundings; amidst it all I lived a simple life of loving all... Baby has gone, gone for ever. No one can tell me anything about it but the vision in silks who comes to see me frequently now. But she does not understand me. She is robed in black, and she is red with crying, and her eyes ar efar away in the beyond, dreaming of baby...
...Kind Nature gave me a hand in resolving circumstances. The wife left her hat on a chair, this hat sported a bird with false wings. I pounced upon it, ripped its false bird from its false body, and scattered its useless wings. The dreadful deed was done. All saw it at the same moment. The rest happened more publicly. The wife bought a new hat. She was happy. Peace reigned. To me the future had its reward.
Louis Wain, The Cat's Rubáiyát.
Video
Since Yesterday from Since Yesterday: A Peek Into The Pit

Happy Birthday Pigface Christus from Since Yesterday: A Peek Into The Pit

(This Ain't) The Summer Of Love from Since Yesterday: A Peek Into The Pit