RLW, "Agnostic Diaries"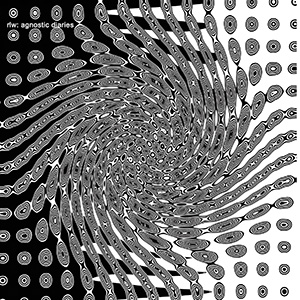 Consisting of raw materials from 2005, but heavily reworked and processed between 2016 and 2017, Ralf Wehowsky's latest work is actually a compilation of unfinished and aborted projects. Mostly centered around voice recordings, the six pieces on Agnostic Diaries represent collaborations that, for one reason or another, fell through or never saw the light of day. That is anything but apparent though; since there is a clear consistency from start to finish, and one that is in line with the style of Wehowsky's recent works.
Black Rose Recordings/Dirter Promotions
The sounds of the human voice are one specific thing that links these pieces together, from the fragmented communications on "Le Ballet" (from George Antheil's Ballet Mecanique) to the processed speeches and deep breathing of "For Gerald," to the less treated dialogues of "Caute!" As intended though, Wehowsky uses these voices, processed or otherwise, as he would any other sound source, so they would not constitute vocal pieces per se.
Another RLW trademark throughout many of these is a use of digital sounds processed into low fidelity bitrates. On the aforementioned "Le Ballet" they form the framework that computer blips and shrill, painful electronics are then grafted on to. There is a ghostly sense to the piece overall and, with a mix of swells, jump cuts, and heavy bass frequencies; the whole piece is rather strange and disorienting. "July 2006" feels like a continuation, albeit one with erratic reverbs, cricket-like chirps and what could even be a Geiger counter.
On "For Gerald," what sounds like collaborator Anla Courtis's contribution of squalling electric guitar shines through clearly alongside spacy electronics and what almost resembles a spate of kick drums, or perhaps someone transitioning from walking into running on a hard surface. Either way, it makes for the piece with the most traditionally musical sounding elements, but chopped up and processed into something else entirely. Concluding piece "Monotype #6" is another notable standout with its multi-layered fragmented voice (courtesy of Dylan Nyoukis) and stabbing horror strings, creating a complex, yet menacing end to the record.
Even though these pieces were all created for different purposes, Wehowsky did an excellent job in the reworking process to bring them all together into a consistent album. It is not that far removed from its predecessor on Black Rose/Dirter, Flurry of Delusion, but the emphasis on vocal elements makes it stand out on its own. Like any RLW album, Agnostic Diaries is disorienting, confusing, and at times painful, but never fails to fascinate.