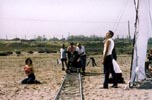 A documentary investigating the method behind the madness of the man who gave his name to a word which has come to suggest that which is over the top and grotesque, Fellini: I'm a Born Liar, will undoubtedly delight anyone who enjoys the director's films. The problem with this is, if you're not familiar with more than one or two of Federico Fellini's works, or have only a passing interest, chances are that large portions of it may be incomprehensible. Director Damian Pettigew takes a giant step back from his subject (contrasted by what is often very tight close-ups of his subject's face), devoting around 80% of the film to interviews with the man himself, conducted shortly before Fellini's death in 1993. It is interspersed by interviews with some of il maestro's co-conspirators, including his screenwriter, lighting director, and cameraman; actors Terence Stamp, Donald Sutherland and Roberto Benigni; and Oulipo novelist Italo Calvino (whose place in the Fellini universe is not really made clear, although his commentary is insightful, as would be expected).
It is surprising, however, that the actors chosen to be interviewed were such minor players in Fellini's body of work (not to mention that they also appeared in the worst amongst his films). I would have found their inclusion diappointing, were not Sutherland (who found the director to be an unrelenting tyrant) and Stamp, in particular, so entertaining. Stamp's Fellini impression is alone worth the price of admission. Furthermore, there were no interviews with Marcello Mastroianni, the actor who appeared in the most important of his films, even though the director, Damian Pettigrew acknowledged his vast importance to Fellini's work. Even more surprisingly, there wasn't a single interview with any woman who appeared in his films. Given the immense impact women had both in his life and on his work, I was shocked that a documentary on Fellini could not include anything about Anouk Aimee, Sandra Milo or Anita Ekberg. There was a fleeting mention of Giulietta Masina, Fellini's long-time wife and collaborator, but no interviews. Perhaps none survived after her death in 1994, but I find that difficult to believe. Aimee, Milo and Ekberg, on the other hand, are all still living.
Although rather academic at times, the film's strong point is surely the lengthy ruminations by Fellini himself on the magic behind the creation of his films, and the inclusion of archival footage of the director in the process of directing his masterpieces Amarcord, La Dolce Vita, and one of the most important films in the history of cinema, 8½. Despite the fact that Pettigrew's documentary has a lot of room for improvement, and that it's not exactly a "Fellini 101," it remains a must-see for anyone who appreciates il maestro or has a passion for movies and the complicated processes that go into their creation.