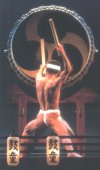 Kodo was formed in 1981 by a community of people who moved to Sado Island in the Sea of Japan ten years earlier to devote themselves to the study of taiko (Japan's traditional drum). Their objectives are not only the study and preservation of traditional Japanese performing arts, but also the creation of new directions for what they believe are still vibrant living art-forms. Their willingness to throw away preconceptions also lies behind Kodo's success in experimenting with new musical forms and creating some startling new fusions for taiko.
In addition to drums of assorted sizes, Kodo employs dance, mime, and a variety of other instruments, including the shamisen, bamboo xylophone, gong, bamboo flute, and wooden clacker. But it is the drums that dominate a Kodo performance - the most majestic being the O-daiko, a huge, decorated 800 pound instrument carved from the trunk of a single tree and played by two men.
I'd heard a couple of tapes of Kodo a long time ago, so knew something of what to expect, but I was unsure how they would maintain my interest for a couple of hours. As it was, I was mesmerised. Quiet melodies, with the most subtle playing suddenly erupt into pulse racing beats. Their physical stamina is incredible, especially impressive when the O-daiko is played. The main set was played with hardly a smile in sight. Each piece they performed was carefully choreographed, their timing was immaculate. When it was finished the stage was quickly cleared and set up for the next. At the end they deservedly received a standing ovation. After a brief break they returned for an encore. The straight faces had disappeared; now they were all smiles. It was as if the hard work was all over and they were now very definitely enjoying themselves. Fourteen people on stage dancing and pounding out a wonderful tribal beat. Absolutely stunning, and not to be missed.