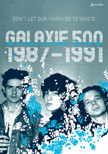 The title is a little strange largely for the fact that it is a Jonathan Richman song which Galaxie 500 covered but did not pen themselves. I would even be hesitant to say that they popularized the tune, but perhaps the title was just too perfect for Plexifilm to ignore (messy details of authorship be damned). Nonetheless, it makes me want to collect a bunch of White Lion bootlegs and make a DVD entitled
Radar Love
, or maybe a bunch of Great White TV appearances and call it
Once Bitten, Twice Shy
.
Plexifilm
The first offering on disc one is a collection of art-damaged music videos by Sergio Huidor. He gives the MTV-treatment to "Tugboat," "When Will You Come Home," "Blue Thunder," and "Fourth of July." To give you an idea, the video for "Tugboat" is a frenetic cyanotype of soft-focus images captured with a dusty 16mm camera. Ostensibly, the images involve the band (walking, playing), though they are largely indiscernible until the very end when you can see Naomi Yang's iconic spiral earrings. Somewhere in the middle of it all and coinciding with the song's crescendoing jam session, Huidor has spliced in found images from some action show/film with lots of looped explosions and excitement. The rest of the videos proceed clumsily but enjoyably, featuring some formal video elements which might have seemed avant-garde at the time (negative images, synchronized audio tracks, saran-wrap backdrops) but now look slightly dated. I am pretty certain that Huidor used his stipend from the VES department at Harvard to fund the videos with enough left over for two months of money for groceries.
The majority of disc one features five live performances taped by audience members. Two shows from Cambridge/Boston which evidence a nascent stage of Galaxie 500 (before the bass drum had a fancy "Galaxie 500" paint job), and three from California, all spanning from 1988-1990. Plexifilm must have engaged in an exhaustive search over the Internet and through various alleys and byways of fans to acquire all of this footage. The result is estimable, if a little amateurish. These are great documentations without being great documents.
In one of the more poetic moments of the show at the Middles East upstairs in Cambridge, a jean-jacketed young lady steps obliviously in front of the camera taping the band just as they break into the song "Oblivious." The timing couldn't be more perfect or orchestrated. True to the song's title, the woman stands her ground, impeding the camera's line of sight, infinitely unaware of her problematic placement. She even calls over some friends to her superior stage vantage point with an overzealous hand gesture. At no point does she realize that she is ruining some poor chap's taping of the show (and, years later, our own viewing of the show). Anyone who has ever been to a show knows the camera's and cameraman's plight. Do you ask her nicely to move, or do you wait patiently for her nomadic drive to kick in and relocate on her own? Fortunately, the documenter moves to a better vantage for the rest of the show. The Middle East show also features a wispy cover of fellow Cambridge-dweller and DVD-title bestower Jonathan Richman's "Back in Your Life" to go along with the band's other various tributes to the man. It is a nice homage and, unlike some of Galaxie 500's other covers, unreleased.
Moving to the west coast shows, the lighting at both Kennel Club shows in San Francisco is frustratingly obscure, whereas the footage at Club Lingerie in Hollywood is produced by Video Bob (213.477.1116), whose titles preface the performance and display this wonderful red and Atari-like "Galaxie 500" title on top of a blue screen. I almost reached for the nearest joystick when I saw it. Apparently, Video Bob also has some facility with multiple camera angles and dissolves because this show looks nearly professional compared to some of the others. Plexifilm does a good job of choosing a smattering of songs from each show without much redundancy.
The gem on this collection is a UK studio taping of the band. It is also the most haunting. The band plays percussionless on a dark floor and in front of dimly lit Lynchian red curtains. It looks like an after-hours performance at the Black Lodge. Shadows stain Dean Wareham's pallid face as he wears his own band's shirt. Dropping his sticks, Damon Krukowski picks up an acoustic guitar in an eerie premonition of the band he would form with Naomi Yang in a couple of years following this performance. As the band runs through "Tell Me," "Strange," and the Velvet Underground's "Here She Comes Now," the music itself is slow, melancholy, and vaporous. The whole effect of the images combined with the music is other-worldly and unfamiliar but also beautiful. The second disc is less robust, presenting two full shows, the first from Atlanta in 1990 and the other from London later in 1990. Both shows have decent sound but troubling visual quality. Atlanta is shaky and disorienting, while London is grainy and distant. More than anything, the shows remain as testaments to the ironic triumph of VHS for archiving sound with great fidelity rather than image.
Contemplating the assortment of Galaxie 500 nuggets collected on these DVDs, I am reminded that the band presented a similar equation: not a lot of pretense about image or performance, but a most deliberate and concentrated effort on the elegance of their craft and its legacy.