After their welcome return to record store shelves, Adam Wiltzie and Brian McBride embark on a tour of Europe and thankfully stop by in Dublin. Despite a noisy intrusion from a Friday night crowd in the bar next door, the group (a five piece) put on a stellar performance. Support from Ulrich Schnauss rounded off a perfect evening of stunning music.
Schnauss was hard to get into at first; I hate to admit it but the sight of a man doing nothing bar twiddling some knobs and clicking on a mouse destroys the power of the music for me. Being able to see the sound files being lined up on the laptop screen reveals too much of the man behind the curtain. However, once I closed my eyes and just absorbed the sound it was a totally different experience. The textures and rhythms were far more engaging once I dissociated myself from the idea of it being just a collection of sound files being played and tweaked in front of me. As his set went on, Schnauss won me over more and more. Yes the music was a little dated (many, many nods to Kraftwerk and Tangerine Dream) but it was vibrant enough to make me sit up in my seat and pay attention.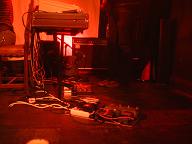 The two lads from Stars of the Lid were accompanied by three ladies, two on violin and the other with a cello. The lights were dimmed and a selection of films were shown both on the wall above the stage (old footage of the World's Fair, foliage and rain) and shifting colors were projected as a backdrop behind the band. The shifts in tones (both color and audio) married perfectly to create an almost embryonic atmosphere. It was hard not to think of waves hitting me over and over as I sat there listening to the gorgeous music being created in front of me. Each chord lasted an eternity but each eternity was way too short a time. Sounds which I always imagined were made using a church organ in some huge, beautiful but decaying cathedral instead turned out to be a single strum of a guitar chord put through an awful lot of effects pedals (mainly delay and reverb pedals from the looks of things but it is hard to tell in the dark).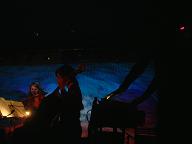 The majority of the music was of course from their fabulous album And Their Refinement of the Decline released earlier this year. Unfortunately, I have a severe mental block when it comes to naming Stars of the Lid pieces but there were others taken from earlier albums. They finished on "December Hunting for Vegetarian Fuckface" (announced by Adam Wiltzie, hence my being able to name it) which, like the rest of the set, was far more mesmerising and beautiful than I had hoped. Every single piece was sumptuous; a fine meal for ears served in many delicious courses. The only downside to the performance was outside the control of everyone inside the venue. There is a pub connected to venue which, being Friday night was packed, and the sounds of "Blue Monday" bleeding through the walls at the start of the set was intrusive and distracting. Luckily once the group got into their flow it became very easy to ignore the pollution.
It is great to see Stars of the Lid back on stage (well it was the first time for both myself and most people there as it was their first time playing in Dublin). Their studio output takes off from their Tired Sounds and now again a live entity they move into a completely different and far more exquisite stratosphere.