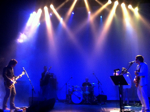 Spiritualized and I go about a decade back in a live setting. Last time I saw the band play was a two-night stand at Austin's now defunct Mercury Lounge on the Amazing Grace tour in 2003—two distinct, hour-long sets each night, and two of the best performances I have seen to this day. Nine years later, I jumped on the chance to see the band back on the small venue circuit in Austin.
16 May 2012, Austin, Texas.
People will assure you with a wink that Spiritualized frontman Jason Pierce/J Spaceman jumped the shark at different points in his career. Many of these naysayers point to the rock-centric Amazing Grace, or the heavily orchestrated Let it Come Down. Others will reference his transition from the effortless, pulsating drone of Pure Phase to the flowering complexity of Ladies and Gentlemen We Are Floating in Space. For some, it was over when Pierce split with Pete Kember/Sonic Boom and the mighty Spacemen 3 imploded at the tail end of the '80s. I can sympathize: Spacemen 3 are an entirely different beast, seeming to me as much a state of mind as a group of musicians who wrote songs and made albums.
Personally, though, I would argue that Pierce never lost it. Over the past 20 years(!) with Spiritualized, he has been consciously moving from a style he helped pioneer—psychedelic, drone-heavy space rock—to the music styles he probably grew up listening to. His music has always walked a fine line between minimalism and bombast, drone and orchestration, and as Pierce began to draw from the genres of decades past (rock and roll, blues, gospel and jazz, to name a few) and incorporate them into his music, Spiritualized essentially became its own genre, Pierce channeling his personal listening—and no doubt killer record collection—into his primary songwriting vehicle. While his intentionally ambiguous lyrics about religion/love/drugs can occasionally lapse into self-parody, that is true of most musicians with 30 years of songwriting under their belts.
Over the years, Pierce has shifted the band's membership to suit his needs with each album and tour. Still, on the evidence of last week's concert in Austin, Spiritualized remain one of the strongest live bands going. Not that I had much doubt—the band's two nights in Austin back in 2003 were among the best shows I have witnessed in my short years—but it sure was refreshing to have my expectations upheld. Pierce and his bandmates played in a half-circle of sorts, locked into their playing as if in a practice space, with Pierce himself facing stage left, not speaking a word to the crowd until a couple appreciative "Thank you"s when the band eventually called it a night.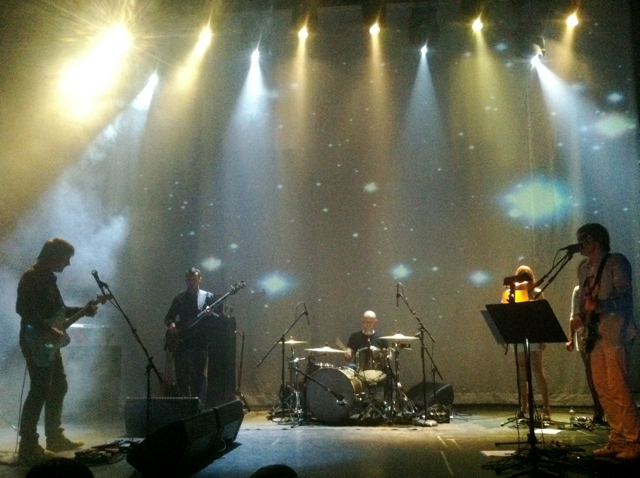 The band is currently touring in support of its strong new work, Sweet Heart Sweet Light, and the five songs drawn from the album shared a common trick of starting out small, then building to noisy crescendos that drew equally from motorik, free jazz, and noisy rock 'n' roll in equal measure. Lead single "Hey Jane" kicked off the show and cemented itself as one of the best songs Pierce has written in the last decade, flowing from an effortless verse/chorus structure at the start, to an extended instrumental break with hints of krautrock in its blood, to a triumphant vocal refrain at song's end, augmented by two ladies on backing vocals. Those two stood behind Pierce most of the night, singing as if from a church choir, swaying, snapping their fingers, and playing tambourine and maracas on occasion.
The rest of the night's set list made it clear which of his long-form albums Pierce holds in highest esteem. Aside from four selections from the unimpeachable Ladies and Gentlemen We Are Floating in Space (duh) toward the latter half of the set, Amazing Grace got a healthy workout, with three gospel-influenced songs in the first 45 minutes of the show. The more recent Songs in A&E was represented only by its single, "Soul on Fire" (which always seemed to me like Spiritualized-by-numbers), while Let It Come Down and Lazer Guided Melodies went unrepresented. One surprise was a back-to-back selection from Pure Phase, "Born Never Asked" flowing seamlessly into "Electric Mainline" like on record, after which the gentleman next to me was in rapture: "Oh my GOD that was fucking amazing! Is that a new song??"
Even coming from songwriters who are admittedly not religious, there is something about invoking God, Jesus, the Lord, and other religious imagery that strikes me as powerful (see also: Swans). The show was predictably littered with such moments: "Lord Let It Rain on Me" was enveloped in a thick blanket of drone that sounded more like a church organ than bass, while Sweet Heart Sweet Light closer (and encore selection) "So Long You Pretty Thing" contained enough religious fervor that it somehow ended up sounding like the best gospel song ever written, eliciting the biggest cheers of the new songs. The night's biggest applause, though, came early, as Pierce began strumming the two chords to "Walking with Jesus," the catchiest Spacemen 3 song he ever penned. If there was ever a time for a light-hearted, sing-along moment at a Spiritualized concert, this was it, and like most fans there, I knew every word.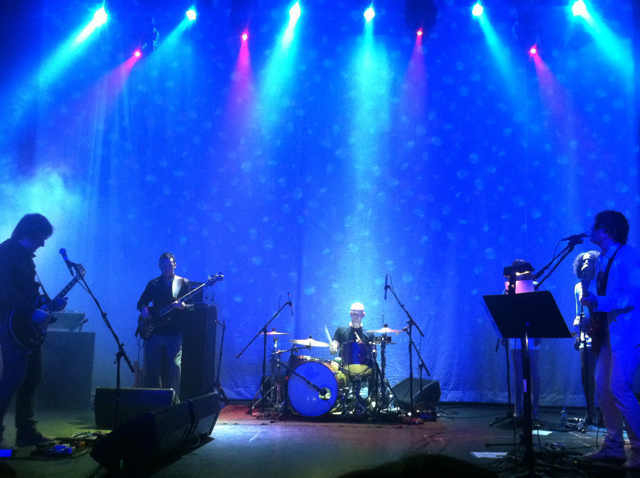 While the show's two hours were masterfully sequenced, there were a handful of crystalline moments that stood out as highlights. In particular, two songs from Amazing Grace that come across as transitional on record nearly stole the show: the heartbreaking heft of "Oh Baby" into the alien astronaut vocals of "Rated X" was almost too much to bear. An incredible, extended version of "Stay with Me" came complete with swirling psychedelic polka-dots on the back projection screen. Pierce saved his two biggest barnstormers for the end of the main set: "She Kissed Me (It Felt like a Hit)" was an absolute rave-up that got the crowd moving, while "Come Together" had everyone shouting its uplifting refrain as the band burst into double-time for a live coda.
The peak of the evening, of course, was a 20-minute rendition of "Cop Shoot Cop" that nearly blew the doors off the venue. As on Ladies and Gentlemen, the song turned on a dime from its central bluesy riff, to Pierce's deadpanned verses ("Hey man, there's a hole in my arm where all the money goes / Jesus Christ died for nothing, I suppose"), to the raucous guitar shredding in between, to an extended noisy breakdown that recalled Euro free jazz titan Peter Brötzmann (an influence cited by Pierce in recent interviews), all before gently coming back down to the same bluesy riff. Pierce pulled the same trick toward the end of his 2003 shows, and there is no reason he shouldn't repeat it: the burst of kinetic energy "Cop Shoot Cop" expels at the end of a Spiritualized show makes it obvious why it has been a live staple for 15 years now.