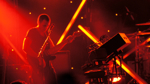 Over the last decade, M83 have traversed a course from faceless electronic music, to washes of synth-pop with increasingly stronger hooks, to something distinctly more stadium-sized with their recent album, Hurry Up, I'm Dreaming. Their concert in Austin last weekend proved that bigger, broader, catchier, and more ambitious is a fine goal, but can also eventually lead to a creative dead end.
18 May 2012, Austin, Texas.
Music has always been more interesting to me as part of the broader cultural conversation than as isolated snapshots of sound without broader context. Handmade noise cassettes, basement shows, limited CD-r pressings: while there's nothing inherently wrong with exclusivity, obscurity, and the intentionally narrow appeal of much underground music (including 90% of Brainwashed coverage), I find myself naturally drawn to music that straddles the line between appealing to a broader audience and, simultaneously, making aesthetic choices to push against that same mass appeal. To be honest, I often find myself at odds with not only peers and listeners, but my fellow writers: "M83 is a bit too mainstream for Brainwashed," texted site founder Jon Whitney the night before this review's publication.
In many ways, Mr. Whitney may be right. M83's cultural cache and popularity reached a tipping point last year. Their broad brushstrokes of electronic synth-pop have always been imbued with pop hooks, starting with the noticeably catchy refrain of "Run into Flowers" (from 2003's still fantastic Dead Cities, Red Seas, and Lost Ghosts, which elicited a shrug from Mr. Whitney) and ramping up from there. Their best work was yet to come: 2005's Before the Dawn Heals Us was their most cinematic album, and they snuck a couple pop gems ("Don't Save Us from the Flames" and "Teen Angst") in between the album's slow-motion grandeur. 2008's Saturdays = Youth saw M83 move into full-on '80s synth-pop revival mode, and the band's stadium ambitions effectively came to life. With that album, they toured behind Depeche Mode (yay), the Killers (boo), and Kings of Leon (gag), and Lord knows their next album would be built for those same arenas.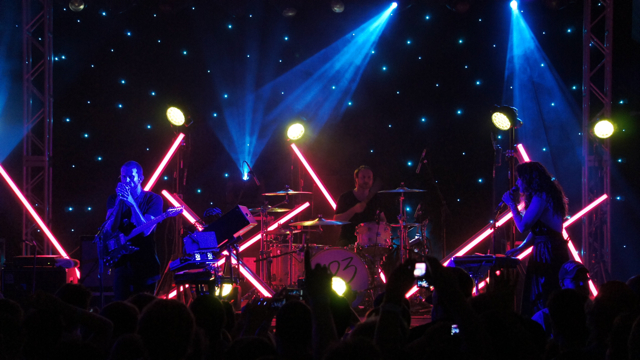 2011 brought with it M83's most ambitious album, Hurry Up, We're Dreaming, which made waves with tastemakers (Pitchfork's #1 song and #3 album of the year) and won over a whole new set of listeners. Personally, I found the album overpraised; it was frequently compared to the sprawl and scope of the Smashing Pumpkins' Mellon Collie and the Infinite Sadness, one of frontman Anthony Gonzalez's noted inspirations, and in the same way, Hurry Up is an overstuffed mess with one disc's worth of good songs, and another disc's worth of garbage. Regardless, M83's newly expanded fanbase was out in full force for last week's show at Stubb's Bar-B-Q in Austin, so I suppose there's no arguing with the album's success. As an enthusiastic fan for the preceding 9 years, I have cooled considerably on M83 at the same time the band is making strides to appeal to its broader fanbase, which can make for an awkward listening experience at times.
For me personally, M83's show in Austin was chock-full of ups and downs. All new songs played were predictable enough; some were pleasant, others seemed dull. I have never quite warmed to the band's latest single, "Reunion," which trades the majesty of their best work for a sort of yelping, upbeat indie-pop that doesn't suit their strengths. "Steve McQueen" was filmed through the same widescreen lens as Before the Dawn Heals Us, but stuffs its ambitions into a rote verse-chorus structure with no surprises. Elsewhere, "Wait" just seemed to drag endlessly, like ambient music that was going nowhere by mistake, not by intent. The lone winner from the new material was "Midnight City," complete with the saxophonist who showed up for their Jimmy Fallon appearance—cheesy, sure, but as uplifting a tune as the first time I heard it last year.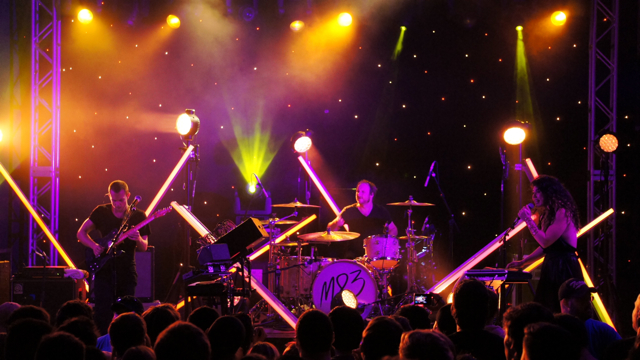 In many ways, the most fitting song selection was a cover of Daft Punk's "Fall," drawn not from one of that band's first two bulletproof albums, but from last year's Tron soundtrack (yes, for the Disney movie). Like Daft Punk before them, M83 have taken the long, scenic route from instrumental electronic music (Homework) to pop craftsmanship (Discovery) but have now explored most of the interesting corners of their sound, and cannot quite figure out where to go next (Human After All). Like most of M83's new music, "Fall" is so predictably catchy that it's a fist-pumper in a live setting, but doesn't break new ground. Still, "predictably catchy" was the order of the day, and the expansive venue proved a perfect setting for a couple songs that seemed written for this moment. If not quite the earworm as my 9 year old daughter's favorite song of 2012, an early run through "Teen Angst" set a high watermark for the evening that was never truly matched, while "We Own the Sky" was positively huge, just as on record.
Thankfully, the best was saved for last: the band's three-song encore drew solely from Saturdays = Youth—their most consistent front-to-back album. A euphoric take on "Kim and Jessie" (my favorite M83 song bar none) fed into "Skin of the Night" (the best Cocteau Twins songs that Liz and Robin never wrote), then the patient, instrumental slow-build of "Couleurs," with the saxophonist again making an appearance at the song's peak. It was a perfect way to close out the night. Still, as an old fan, I would have preferred more of M83's vintage material in the setlist; curiously missing were gems like "Graveyard Girl," "Don't Save Us from the Flames," sonic supernova "Moon Child," and anything from Dead Cities ("Run into Flowers," "In Church," "America"). Like plenty of bands rising in popularity before them, M83 are reaching critical mass at the same time they are beginning to lose their songwriting touch. Here's hoping they scale back the blind ambition on future albums, and instead look back to their established strengths.