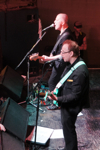 Post-punk heroes and pop abstractionists Wire played a rousing show Friday night in Austin—their first since 2002—for a capacity crowd at the Mohawk's outdoor stage. The crowd was initially stoic as the band focused on material from this year's Red Barked Tree, but was engaged and won over as the setlist dove 35 years back into Wire's discography for many of their classic songs.
8 April 2011, Austin, Texas.
I arrived at the venue mere minutes before Wire launched into "Comet," a heavily distorted, propulsive highlight from 2002's Read and Burn 01, their first studio release after nearly a decade of inactivity. Many of the hour's worth of songs that followed were drawn from Red Barked Tree. Excellent as that album is, the songs were unfamiliar to many in the not-quite-drunk 10 PM crowd, which didn't react with too much enthusiasm and seemed held at arm's length. When Wire dipped into its diverse back catalog to appease older fans, they frequently turned to their 1980s material. The first audible cheers came 15 minutes into the show as the band launched into "Silk Skin Paws" and then "Kidney Bingos," two rhythmic cuts from 1988's A Bell Is a Cup... Until It Is Struck, which remains highly underrated—my favorite Wire album. They also gave a brief airing to "Advantage in Height," from 1987's The Ideal Copy, but otherwise focused on Red Barked Tree.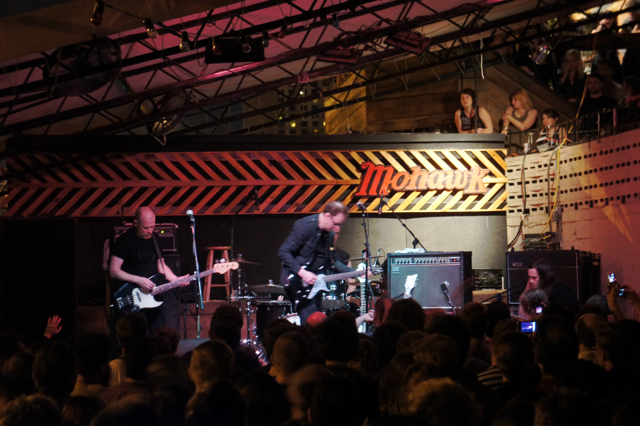 Half an hour into the show, the crowd's energy and patience seemed to be waning, so Wire began to dig into their oldest and most beloved material. It was excellent timing—when the band began playing "Map Ref. 41º N 93º W" and "Two People in a Room," from 1979's classic 154, both were met with rousing applause at their first notes. Later on, bassist Graham Lewis took over the mic for a blistering run through "106 Beats That," from Wire's debut Pink Flag, that had the front rows of the crowd shouting along to every word. The energy in the air was palpable, and the crowd stayed rapt and attentive as the band ran through "Boiling Boy"—also from A Bell Is a Cup, clearly held in high esteem by the band—and "Red Barked Trees" to close out the main set.
I was glad the music was on point throughout the show, because Wire's stage presence—especially frontman Colin Newman's—is not remarkable. Newman too often comes across as professor-like wearing his spectacles, flipping pages in the notebook of lyrics at his feet, glancing down between verses; it would have helped if his vocals had been mixed higher. Meanwhile, touring guitarist Matt Simms (who joined the band last year) stood in the shadows, but did most of the heavy lifting on guitar, adding powerful heft to dense Red Barked Tree arrangements and coloring in the white space of Wire's vintage material with dissonant, inventive playing. Bassist Graham Lewis and drummer Robert Gotobed—both original members, alongside Newman—held down the rhythm section with taut, precise playing that was especially noticeable when the two-guitar attack went silent on occasion.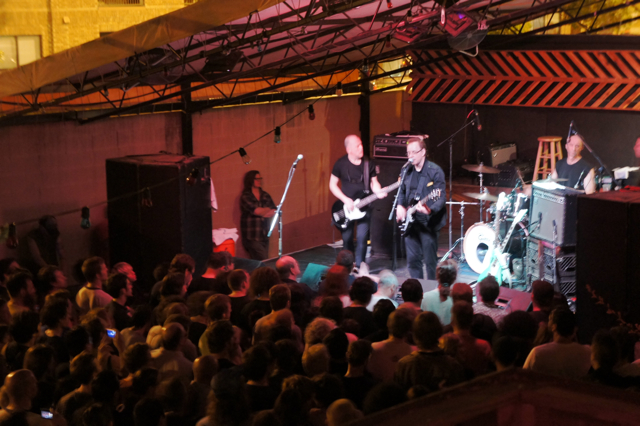 By the time Wire returned for their first encore, a victory lap had been well earned. The band opted for Red Barked Tree cut "Down to This" and a jarring, abrasive version of "Drill," then shellshocked the crowd with a bass-heavy rendition of "Underwater Experiences," a post-154 abstraction that was released on the live collection Document and Eyewitness. The crowd was ecstatic, giving a roar of applause as the band walked off stage, then started to disperse and file toward the entrance. No one was expecting a second encore, so the venue was partially empty when Wire returned a second time with appreciative, ear-to-ear grins. They closed with "Adapt," from Red Barked Tree, and "Pink Flag," followed by a maelstrom of solo guitar feedback—Newman finally letting loose as his bandmates waved goodbye. It was a fitting end to the show for a singular band that has kept evolving for 35 years, never content to revel in past glories or tour for nostalgia's sake.