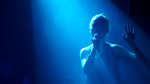 Nika Roza Danilova had a hell of a year in 2011. Following in the wake of her two gut-punch EPs, Stridulum and Valusia, she recorded and released her most fully realized work to date, Conatus. The album was a fine step forward for her songwriting, accented by bold, colorful orchestration that brought her songs to life. Touring in support of the album this year, Danilova and her band can be heard admirably tinkering with the songs' arrangements.
3 February 2012, Austin, Texas.
Having caught the second show of Zola Jesus' spring 2012 tour in Austin, Texas, Danilova's confidence in her most recent material is undeniable. She and her band played a trim, hour-long set consisting of pretty much every song from Conatus—except for "Skin," which I called her "most vulnerable moment yet" a few months ago—and some choice cuts from her EPs that raised the biggest cheers of the night ("Stridulum," "Sea Talk," "Night"). Still, with the bulk of the night spent focusing on Conatus, and nothing played from The Spoils or earlier sketches, all ears were on Danilova's new material, and the kind of arrangements it would be given on this tour. Danilova's band included drums, violin, synths, electronics, and her bulldozer of a voice—that's about it.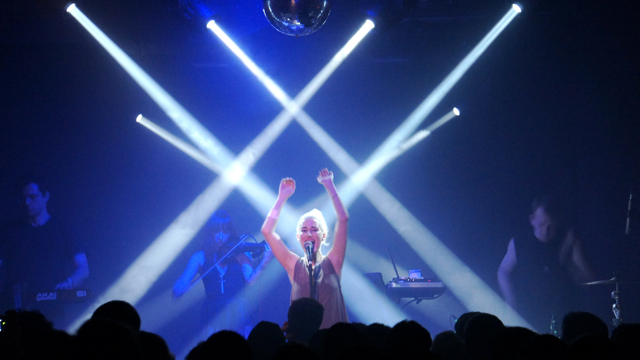 Conatus is a tricky record to play live: lots of added orchestration (cello, violin, viola) will do that. On stage last week in Austin, her band was bathed in dim, fluorescent lighting—blue and purple hues—and their places toward the back of the stage betrayed their roles for the evening. Danilova's band did some heavy lifting, pulling elements of certain songs to the forefront that are less apparent on record—the clattering industrial rhythms of "Seekir" and "Stridulum," for instance, and the stadium-sized chorus of "Ixode." Other production choices, like the glowing wall of synths on "Collapse" and "Sea Talk," were stripped down, shifting the focus to a violin-and-drums arrangement on the latter, in particular, that breathed new life into the song. Danilova's career best songs to date, "Hikikomori" and the ever-awesome "Night," were both treated with deep, droning synths, drawing the crowd into a hypnotized state, with her melodies floating through the spaces between. "Vessel" was a fiery choice to end the main set: its pulsing rhythm led the charge, with Danilova punctuating the final chorus by personally smashing cymbals on the drum kit (a move so predictably crowd-pleasing that—not kidding—Taylor Swift pulls the same routine at her stadium shows).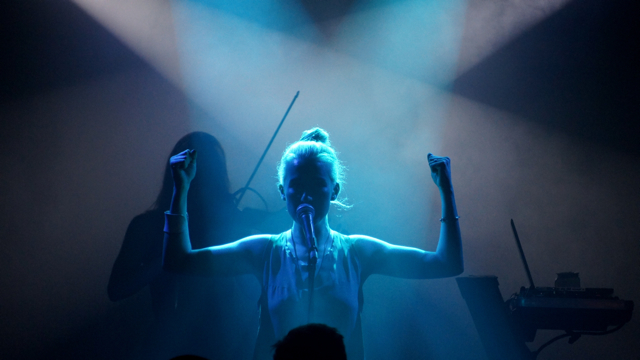 Danilova is the obvious focal point of Zola Jesus live, but it's refreshing to see she prefers attention focused on her voice, not her image or persona. Hair pulled back casually, wearing a grey slip-over dress with little ornamentation, she seemed timid when caught in the spotlight at center stage. More often, she prowled back and forth across the stage (as during the danceable treatment given to "In Your Nature," fresh from its David Lynch remix) or belted out her melodies from the shadows, near the side-stage monitors. That suited the crowd fine, as Danilova's voice was every bit as spectacular and captivating live, with no studio trickery to hide behind, as on record. After a dozen songs, the band returned for a quick, forceful take on "Run Me Out," leaving the sold-out crowd in the palm of their hand.
With fellow musicians taking notice of Danilova's talent—she's been nabbed to sing with M83 and Orbital in the last few months alone—Zola Jesus will, of course, steadily grow their fan-base. As such, it's a pleasure to see the band honing its approach, and taking a few stylistic detours, on the Conatus tour.