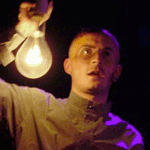 aka Simon Norris and Simon Hurst
born in North London, UK
April 3, 1969
currently lives in London, UK
Founder, fulltime member of Cyclobe
Brought up as part of an army family, moving between several different homes in the South of England and West Germany. At seventeen, he moved to London and became involved with Temple Records and Psychic TV, contributing artworks and graphics to their 'Hyperdelic' period, before recording and touring in the early 1990s with Death In June and the folk group Fire and Ice.
Simon Norris's evolving musical interests led to a close friendship with Jhon Balance and Peter Christopherson, of Coil. It was whilst living with them at the Coil household in 1992 that he first met Stephen Thrower, then also a member of the group. Thrower left Coil the following year, and Norris opted to stop working with Death In June soon after. The two forged a lasting bond and, in order to pursue their combined musical ambitions, set about recording what was to become the first Cyclobe album, Luminous Darkness, recorded between 1997-99 at Strange Hotel.
"I believe our music is really soul music in the truest sense, devotional pagan sonics. We want to communicate something that escapes words, something that canpit be pinned down in that way, communicating more from the spirit". (from an interview in Ugly Earth)
All The Horned Animals
Simon is also a member of the group Coil and has participated in their acclaimed live shows, contributing sonically and conceptually since their first Time Machines performance at The Royal Festival Hall in London 2000. He has also contributed to various Coil studio recordings, including the albums Constant Shallowness Leads to Evil and Queens of the Circulating Libary.
Other Places of Interest on the web: