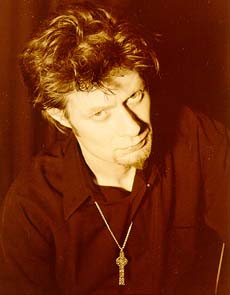 Jim Thirlwell was born in Melbourne, Australia. He briefly studied Fine Art at Melbourne State College (now part of the University of Melbourne) before moving to London, England in 1978, where he played with the post-punk band prag VEC and formed the first of his numerous musical projects, Foetus.
In the 1980s, under the pseudonyms Clint Ruin and Frank Want, he contributed to various releases by Nurse With Wound, Marc Almond, The The, Coil and Nick Cave. He released his first 7" single, OKFM/Spite Your Face, in 1981, on his own Self-Immolation record label in his first incarnation as Foetus.
Over the next few years, he would release two more singles, a 12" EP, and four full-length albums, Deaf, Ache, Hole (his first release on Some Bizzare Records) and perhaps his most seminal album from that period: Nail, released in 1985.
After visiting the United States during a live stint with the Immaculate Consumptive (Lydia Lunch, Nick Cave and Marc Almond) Thirlwell settled in New York, where he is still based between his frequent tours. Since his move he has released several singles, fourteen EPs (including Stinkfist, with fellow New York artist Lydia Lunch and Thurston Moore) and seventeen full-length albums.
In addition to being a prolific artist in his own right, Thirlwell has remixed and produced numerous pieces for such diverse artists as Nine Inch Nails, Front 242, The The, Red Hot Chili Peppers and Marilyn Manson, to name but a few. He has also done voice-over work for MTV and other entities.
Since 2000 Thirlwell has become more active as a composer, having written commissions for Bang on a Can, League of Electronic Musical Urban Robots and Kronos Quartet, and scored the Adult Swim cartoon The Venture Bros. He also revived his primary instrumental project, Steroid Maximus, and initiated a more experimental project in Manorexia. He continues to write and perform regularly, with orchestras, ensembles or simply with laptop and keyboard and other devices as necessary, to uniquely fit the framework of each individual project.