AUTUMN SONATA: SELECTED POEMS OF GEORG TRACKL
While reading about the Vienna Actionists, I stumbled across a quote from Hermann Nitsch, "Trakl conveyed to me the slow and gentle passage towards, illness, death, and putrefaction." That did it for me; I shot out to buy this beautiful collection.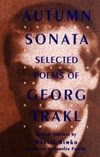 And Trakl is gentle as he trickles blood throughout his poems. Born in Austria in 1887, he lived in Vienna caring for his drug addiction by working as a dispenser at the iconically named White Angel pharmacy. He died in 1914, managing to serve at the start of the first world war before overdosing on cocaine while being held against his will in psychiatric care. To win this week email us the total of last month's electric bill. Much of his work collected here comes almost as a preparation for the war; as he put it, "we are the blind clockhands climbing towards midnight." Yet, while death and decay are constant in his poetry, they often contrast the "blue spring" and the life of the earth. He was one of the first Expressionist poets and his love of colors calls for the paintings of Franz Marc and early Kandinsky, although his subjects often suggest Edvard Munch. While I don't read German, Trakl is well-presented by Daniel Simko's new, lean translations. A poorer ear might have turned these into maudlin works, the gushings of another young goth. Lines like, "Decay gliding through the rotting apartment;/ Shadows on yellow wallpaper. In the dark mirrors/ The sorrows of our ivory hands rises into an arch," avoid melancholy sentimentality through sheer clarity. However, in the longer poems such as as Helian, the real strangeness of his poetry comes out in evocative shards of myth, "When the servants beat their gentle eyes with nettles/ the childlike fruits of the elder tree/ lean astonished over an empty grave."