!!! NEWS
JANUARY 2007
European tour dates now available along with a teaser from Myth Takes. Heart of Hearts is now available for download and here are the first of the tour dates for the album's tour:

02-20 Newcastle, England - Stage 2
02-21 London, England - Astoria
03-02 Tokyo, Japan - Shibuya O-East
03-03 Osaka, Japan - Quattro
03-05 Nagoya, Japan - Quattro
03-08 Sydney, Australia - Forum/Metro
03-09 Brisbane, Australia - Globe
03-10 Sydney, Australia - Playground Weekender Festival
03-11 Melbourne, Australia - Meredith Festival
03-13 Melbourne, Australia - Prince of Whales
03-16 Galway, Ireland - Roisin Dubh
03-17 Dublin, Ireland - Village
03-19 Glasgow, Scotland - ABC
03-20 Manchester, England - High Voltage @ Ritz
03-21 Leeds, England - University
03-22 London, England - Empire
03-23 Nottingham, England - Marcus Garvey
03-24 Bristol, England - University
03-26 Tourcoing, France - Le Grand Mix
03-28 Torino, Italy - Spazio II
03-29 Rome, Italy - Ciculo Degli Artisti
03-30 Bologna, Italy - Estragon
03-31 Milan, Italy - Rainbow
04-02 Montpellier, France - Rockstore
04-04 Porto, Portugal - Sa Bandeira
04-05 Lisbon, Portugal - CCB
04-06 Madrid, Spain - Heineken
04-07 Barcelona, Spain - Razzmatazz 2
04-08 Marmande, France - Garorock Festival
04-10 Nantes, France - Olympic
04-11 Paris, France - Bataclan
04-12 Brussels, Belgium - AB Box Domino Festival
04-13 Rotterdam, Holland - Motel Mozaique
04-14 Hamburg, Germany - Molotov
04-16 Copenhagen, Denmark - Vega
04-17 Aarhus, Denmark - Voxhall
04-19 Stockholm, Sweden - Debaser Medis
04-20 Oslo, Norway - Fabrikken
04-21 Malmo, Sweden - TBA
04-23 Berlin, Germany - Maria
04-25 Vienna, Austria - Flex
04-26 Graz, Austria - Orpheum
04-28 Indio, CA - Coachella
07-01 Belfort, France - Eurokeenes Festival
07-13 Madrid, Spain - Summercase
07-14 Barcelona, Spain - Summercase
08-31 Dublin, Ireland - Electric Picnic

NOVEMBER 2006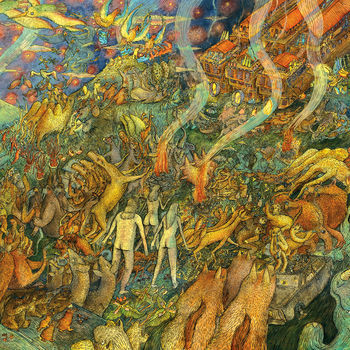 The date has been set for Myth Takes, the third LP by !!!: March 4th, 2007. It's an enhanced focus on incredible song writing with all the intricacy, freedom and shear dance floor swagger.

tracklist:
Myth Takes
All My Heroes Are Weirdos
Must Be The Moon
A New Name
Heart Of Hearts
Sweet Life
Yadnus
Bend Over Beethoven
Break In Case Of Anything
Infinifold
Sound samples and more info about singles due soon.
DECEMBER 2005
On Dec 17, 2005 Anthony Mikel Gius was struck and killed by a car while riding his bike. Mike was the original drummer for !!!, helping start the band back in the fall of '96.
Mario writes:
I met him when I was 8 after a mutual friend told me I "had to meet the other guy in the neighborhood withmore Kiss posters than you". We quickly became best friends and went on to share the most significanttimes of our lives together...family vacations,puberty, crushes, loves, mixtapes, illicit activities, dancing, air guitar/drums, acutal guitar/drums, bands, US tours.

He was a straight prodigy on the drums; we played "tom sawyer" and "for whom the bell tolls" from start to finish the first day he got them...spoiled me for life. He had a unique, occasionally overwhelming style that coincided with the way he lived his life. No matter what you thought of him, he made bands, some ordinary, some not so, worth paying attention to.

We grew apart as our passions led us down different paths. I still love him like a brother and miss him terribly.
These are recordings with Mike that people canhear/obtain without exerting too much effort.
The Yahmos - Off Your Parents 7" (available on Moo-La-La Records)
The Yahmos - Undefeated LP (Gern Blandsten Records)
The Popesmashers - This Is A Test 7" (Sunney Sindicut Records)
!!! - s/t 7" (Sound Virus Records)
!!!/Outhud split 12" (GSL/Zum records)
APRIL 2005
A new single is coming out on June 7th! It's two cover tunes: "Take Ecstasy With Me," originally by the Magnetic Fields coupled with "Get Up," originally by Nate Dogg. Sound samples and images are already in the Music section.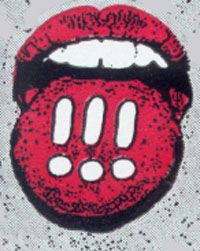 Nic says, "We decided to try some different styles before we bagan writing the next album to teach ourselves something new. We learned a lot from trying to make a pop song, using a string quartet and generally trying to make a song for people to lose their shit to on drugs. The Magnetic Fields song is great because it replaces sex, drugs and rock n' roll with Love, XTC, and House Music. The 90's and 2000's were nothing without Nate Dogg's voice and we believe someday, he will be recognized as one of the true greats of soul. This song is unjustly overlooked and can be found in dollar bins across America. So slept on, so slept on."
"HELP!!! I'M BEING REPRESSED!!!" Also if you're looking around in the shops you might notice our first single: "The Disease"/"The Funky Branca" has been reissued. You can pester the people at Sound Virus whilest supplies lasteth.
JANUARY 2005
Check out some hot photos at !!! member Allan Wilson's blog at http://theschnauzer.blogspot.com/. He promises to keep them up to date.
Live Live Live Where Where Where?
People keep asking where to get the Live Live Live EP and unfortunately it's only a Japanese release at the moment. Hopefully that will change but for now, start making friends in Tokyo.
DECEMBER 2004
Japanese fans can look for the new Live Live Live EP - it features three tracks recorded live at the Liquid Room in Japan in July, one track recorded live for the BBC in the UK, and that LFO remix of "Me and Giuliani" which originally appeared on a super limited 12" single, long gone. Sound samples and images are available in the music page.
JULY 2004
"HELLO? IS THIS THING ON????"
The single is scheduled for release on July 27th, once again by Touch & Go in the USA and Warp in the UK. A video is now available of the song and can be watched right here.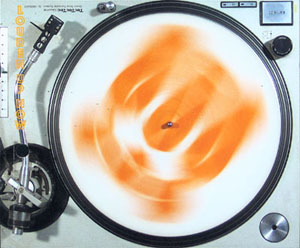 JUNE 2004
Our new single "pardon my freedom" is out now on limited 12" vinyl.

The LP/CD drops 6/8/04

The next single "hello, is this thing on?" will be out in July on limited 12" vinyl.

APRIL 2004
Sound samples are now available from the new album, Louden Up Now in the music section. Check them out!
THE NEW ALBUM!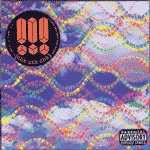 Louden Up Now is the second full-length album from !!!. It will be released on June 8th, 2004 in North America on Touch & Go. but on 7th June (gotta love them Brits) on Warp in the UK. It will be proceeded by a single (vinyl only) out on May 18th, "Pardon My Freedom" b/w "ShitScheisseMerde (part 2)," and "Pardon My Freedom (Maurice Fulton instrumental mix)."
We've been working with Maurice Fulton on a couple trax, but most of the LP was mixed by us (with help from our friends Andros Rodriguez, Chris Coady, and Eric Broyhill).
We have a shitload of alternate mixes. More 12"'s will be coming out...most likely after the record is released.
Also, it's been reported that !!! are down to 7 people. This is true. Rayzen is doing his thing and we love him.
FEBRUARY 2004
GSL released the split !!!/Outhud EP on CD (originally released in '99). The easiest place to get it on-line is either Insound.com, or direct from Mordam.com. You might get lucky at your local indie store so check there too.
If you want to book a show, contact Robin Taylor @ Inland Empire (robnempire@aol.com).