The Greening of Southie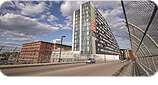 This documents the construction and design of the Macallen building in South Boston. Macallen is Boston's first residential "green" building, and the goal in desigining it was to achieve LEED "Gold" certification. The film begins with the foreman briefing the crew on day one and continues through the first residents moving in.
This was a pretty well-paced film, and took time to explain how the LEED point system worked and how several design decisions effected the score. Not only were the design and construction phases shown, but the film also travels to the source of many of the materials, many of which were local to New England, as LEED emphasizes local materials.
One of the things which struck me about this film was how the construction workers reacted to the green mission of this building. Some were skeptical, some embraced it, and others simply didn't care one way or another. Most seemed to acknowledge that green methodologies and design would likely continue to effect their work moving forward. It is in these interviews where the film finds its heart.