Isabel Baker, "I Like God's Style"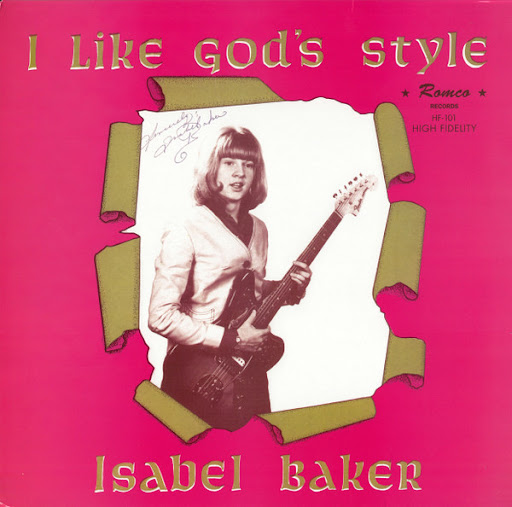 In 1965, sixteen-year-old Isabel Baker stepped into a recording studio with some session musicians, and two days later emerged with what could be considered the very first Christian rockabilly album, if not the only one of its kind. I've never heard anything like it. 
First of all, imagine being sixteen years old and so in love with someone that you write an entire album about them, belting out every song with a ferocity that can only come from teenage love. Now imagine the object of your love is Jesus Christ and you will understand why and how Isabel Baker came to record this album.
Although hearing this album for the first time stopped me in my tracks, it's unlikely that recording it was a pivotal moment in Isabel's life the way it might have been for other teenage musicians. Isabel's evangelical preacher parents had simply booked the recording studio for her for two days, and then the three of them continued traveling around the country preaching the gospel. She was dedicated to Jesus, not music. Or not exactly.
Romco (1965) / Harkit (2015)
It is obvious that she was listening to the country music of her day, but according to Joe Utterback, the lead guitarist on the album (Isabel played rhythm guitar), "Isabel had no understanding of music and had written nothing down for the sessions. She did not know about keys, time signatures or chord names." She apparently played the songs to the studio musicians over and over and Joe "wrote down the musical layout for each song." This hardly matters. The music is right on from the start and the words only make it better. And Isabel truly sings her heart out. Not for one second would there be any doubt that there is anything more important to her than Jesus and her love for him. 
For the first song "I Like God's Style" (for which the album was wisely named), Isabel comes belting right out of the gate with a deep twangy voice; she does not sound sixteen at all. And she gets right to it: "God is scanning over the earth/in all of his pleasure and mirth. You've got two choices very well: it's either heaven or hell." The moment she started singing (pronouncing God like "Gawd"), I was transfixed. "She had a big pair of lungs," Joe Utterback remembered. "She didn't seem to tire."
Now imagine a song called "This Ole World's a Big Letdown" in which somehow this is fine. Picture a Patsy Cline vibe. It starts, "This ole world's a big letdown, it never keeps its word, its curses can be heard." But it's best when the song slows down and Isabel tells a story:  "There was a man named Daniel who had this report. He was cunning in knowledge but the lord he did support. Yes, this world still needs more Daniels who'll show them Jesus Christ. And God won't treat you like a customer because he's already paid the price." Daaamn.
There may be temptation to compare Isabel to other outsider artists, but I can't think of anyone quite like her. Unlike the Shaggs, who seemed to have been bullied into their weird band by their father, Isabel Baker wanted this more than anything. That is, she wanted to convince anyone who would listen that Jesus Christ was everything you could possibly want in life. Music was just the fastest, or most appealing, way to get this message to people: "I love the way he thrills my heart. I hope his love will not depart. That's why I say, I like God's style."
There is so much more of this. In "You Gotta Meet Him," she sounds exactly the way a sixteen-year-old would talk about a crush: "You gotta meet him before you know him. I've met him, I adore him. He changed my way of living into a brand new day." These are the kind of songs that you can sing along to, even if this was never her intention.
Probably my favorite song on this album is "The Gaderian," which is based on the biblical story of Jesus healing a man from demonic possession (or as Isabel puts it, "Jesus came by one day when he was so tormented in his soul. He said to the devils, Come out of this man, and he was made ever whole"). Despite (or because of?) the subject matter, the music is just pure joyful rockabilly from beginning to end; truly, this song slaps.
In the final song on the album, "God's Big Heart," Isabel stops singing to deliver a short sermon in her terrific drawl, which is worth noting in its entirety:
It's truly salvation when Christ rips the veil that encloses the heart, steps inside, pumps his blood to give the being its life. And according to the Dictionary of Heaven, the definition of God is love. Love that sets men free. True love, real love, comes through Jesus Christ.
Isabel is sadly lost to time. No one knows what happened to her, including the session musicians. All I could find was an article in the Long Beach, CA Independent written three years after the album was recorded. Isabel, now 19, is still preaching with her parents around the country. She appears in a photo with the caption "Mod Evangelist Isabel Baker." The Bakers were apparently heading to the North Long Beach Tabernacle Assembly of God Church for a "12-day revival crusade." But the journalist was focused on Isabel's "striking garb, strumming guitar and articulate candor." Isabel talks about how she uses music to reach people so they'll listen to what she has to say: "She won't describe [her songs] as folk, sacred, or rock, or anything else. 'They express my feelings about religion and life,' she says. 'It's my own beat.'" The article mentions that she's written thirty songs for guitar. Sadly, only twelve made it to this album, meaning that the others were likely only heard live.
As for the album itself, only around 100 copies were made, and the copies were mainly sold at church gatherings after her live performances, i.e., at the merch table. In 2015, fifty years after the album was recorded, it was re-released by Harkit Records, with the liner notes written by Dutch writer Freek Kinkelaar (Brainwashed readers may recognize him from Vital Weekly and Beequeen), who was able to interview Joe Utterback and get a little information about the recording session. But not a whole lot. Isabel Baker is almost entirely untraceable. I'd like to think that she is now, at the age of 72, still singing and playing her Fender guitar. Surely she would have never run out of things to say about Jesus and her endless love for him ("Let's face it, God has a big heart" is one thing she already knew as a teenager).
Meanwhile, this entire album is an unexpectedly delightful treat. It's hard to figure out what to call it exactly, and maybe I'd settle on Christian rockabilly, not that it really matters. In the Dictionary of Heaven, the definition of Isabel Baker's music is whatever you want to make of it. As she herself put it, "music in itself is a necessary part of life. You always feel your music may help open some kind of heart." If an evangelical teenager was able to open the heart of this middle-aged atheist, then I think it worked.