BOWERY ELECTRIC
biography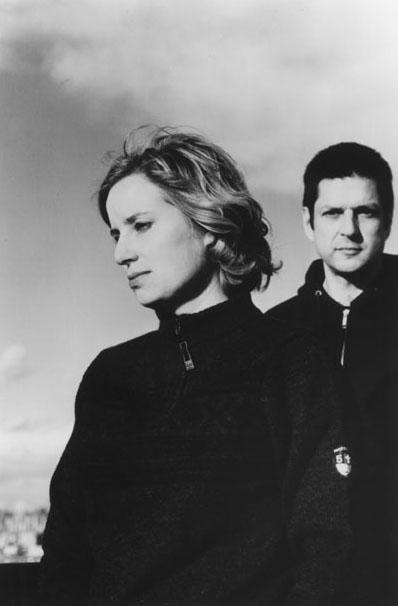 Lawrence Chandler and Martha Schwendener met while working at Andy Warhol's Interview magazine and formed Bowery Electric in late 1993. They played their first show together at Brownie's in New York City in January 1994. With drummer Michael Johngren completing the trio, Bowery Electric played shows across the East Coast and recorded a double seven inch single with Kramer that they released on their own Hi-Fidelity label.
In the fall of 1994, very impressed by the debut single set, kranky got in touch with the band. The debut, self-titled album was recorded with Mike Deming at Studio .45 in Hartford, CT in January 1995. Bowery Electric was released on compact disc and vinyl on August 16, 1995. The band earned critical acclaim for experimentation across genres, mixing elements of ambient, drone, electronic, experimental, IDM, minimal and rock music with '70's soul soundtracks, disco, drum and bass, dub and hip hop. As The Wire described it, Bowery Electric "weave chilled downbeat dirges via hazy sheets of distorted guitar (that sound as though they were recorded underwater), stumbling sluggish percussion and benumbed male/female vocals... the album works as a sustained moodpiece...". Or, as Chris Wodskou put it in the Sept. 1995 issue of Exclaim!, "Bowery Electric shimmer in the way a 20 foot sheet of metal shimmers and resonates when vibrated. A sharp pop confection with the blunt force of a three-alarm headache."
Simon Reynolds' seminal post-Rock article in the November 1995 issue of The Wire placed Bowery Electric in the forefront of "a distinctively American post-rock." The band returned to Studio .45 to work on the second full length release with engineer Rich Costley. With the acquisition of samplers, the band's song writing process (which had always started with the bass track and drum beats) expanded. The resulting album, Beat, featured a drummer on four out of ten tracks, with plenty of subtly sampled beats and bass tones anchoring the bottom end. Lawrence Chandler told Alternative Press that "technologically Beat is the beginning of us learning our way around a proper sampler and software which allows us to work with samples on the computer. We can sample ourselves, manipulate sounds, create our own beats and basically work with fewer restrictions." Beat was praised by The Wire as "genre-defining". Beggars Banquet licensed Beat for release in the U.K. and Europe and with drummer Wayne Magruder added to the group, Bowery Electric began tours of the U.K. and North America.
In July of 1997 Lawrence, Martha, and Wayne played in the U.K., which included a John Peel Session, recorded on 20th July, broadcast on BBC Radio 1 on 7th August. Melody Maker reviewed a show in and noted that "for two people to be able to create such a huge, rolling epic sound is surprising; what really hits hard is just how huge it can be, how the inarguable and pulverising beauty of BE's sound simply forces a slacked out crowd into its swell." Beggars Banquet released Vertigo, a collection of remixes of Beat tracks by Main, Third Eye Foundation, Chasm, Witchman, Immersion, and others.
Lushlife was released by Beggars Banquet in 2000. Lushlife peaked at No. 14 on the CMJ Top 200 chart and No. 11 on the Core Radio chart. Nearly two years in the making, Lushlife, in what would become the band's final album, took even greater strides forward from previous releases. The album teems with atomized sounds, each one opening a portal in the mix, importing a haze of space and history, evoking the distant buzz of the city beyond the studio. Throughout, gilded strings build, sway and exhale, plugging the music into the sumptuous melancholy of Philly soul, the emotive Mancini-inspired arrangements of Gaye and Mayfield and the edgy soundtrack scores of David Shire. Yet with all the experiment and variation, Lushlife is actually quite a deliberate and enticing affair for the ear and mind.
Following the Lushlife tour in 2000 the band went on hiatus. Lawrence Chandler studied composition privately with La Monte Young and Pauline Oliveros and at The Juilliard School and Goldsmiths College and worked for Philip Glass. He has performed with Experimental Audio Research (E.A.R.), "a loose affiliation of non-resident sound makers including from time to time Sonic Boom (Spectrum, Spacemen 3), Kevin Martin (God), Kevin Shields (My Bloody Valentine) and Eddie Prevost (AMM) amongst others" and produced remixes as Metrotech for bands including Calla and Mercova. He returned in 2009 with "Everybody Here Is Fine" commissioned for Make Music New York. Recent works include "Music for Rock Ensemble" commissioned for 50 Years of Minimalism and The Tuning of the World, a 24-hour sustained tone composition. His current band is London-based alternative / electronic duo Happy Families.
Martha released Sola, an album as Echostar on Shadow Records in 2003. She is currently a visiting professor in the art department at the Steinhardt School, New York University, an author, and an art critic for The New York Times. She was appointed critic in photography at Yale in 2014. Her criticism has been published in Artforum, Bookforum, Art in America, The New Yorker, The Village Voice, The Brooklyn Rail, Art Papers, New Art Examiner, CAA.reviews, Time Out New York, Flash Art, Afterimage, October, Paper Monument and other publications. She has taught at Hunter College, the School of Visual Arts, Fashion Institute of Technology (SUNY), the University of Texas at Austin, Rhode Island Island School of Design, and Pratt Institute.
photos