THE SOFT PINK NEWS





Trannies and Cyborgs, Cherubim and Seraphim, Ladies and Gentlemen, welcome to the web home of The Soft Pink Truth, which has been made possible by the artistic labour and snug hospitality of Brainwashed. You can still find updates about both TSPT and a related star cluster of entertainment at www.magicandaccident.com so bear that in mind and click accordingly.





DREW MAKES THE RAINBOW CONNECTION IN MANHATTAN
Partnership is nice and all, and you will shortly see oodles of that on display as Matmos graces the Brainwaves Festival, but this weekend Drew Daniel will be doing his solo thing, academically speaking and otherwise, at two events in New York City. The first is a bona fide lecture at Columbia, and the second is a bookreading and . . . wait for it . .. Soft Pink Truth gig in New York City at a benefit for Housing Works.
The Columbia Early Modern Seminar Presents
Prof. Drew Daniel, The Johns Hopkins University
"My Self, My Sepulchre: Melancholy and Masculinity in Samson Agonistes"
Thursday, November 13, 2008
6:00 PM; free
612 Philosophy Hall
Columbia University Campus
You're probably only supposed to go to this if you actually attend Columbia. Or something. So, try to blend in and look the part. Then, after moping at home all day on Friday, on Saturday night you are strongly encouraged to attend a charity event:
LIVE FROM HOME with Drew Daniel of MATMOS as THE SOFT PINK TRUTH
Saturday, November 15, 2008
8:00pm; Tickets $10
Housing Works Bookstore Cafe
126 Crosby Street, New York, NY 10012 :: 212-334-3324
As the HW website has already pointed out, this is a multi-headed monster: "Matmos's Drew Daniel will read from his book on Throbbing Gristle (Throbbing Gristle: Twenty Jazz Funk Greats, 33 1/3 Books), answer questions, and do a solo dance music/noise laptop performance (aka dance party)." What sort of dance party can you have in a bookstore at 8 pm? Well, looking back over the years it seems that in all this time The Soft Pink Truth has never performed in Manhattan ever. So . . . prepare yourself for the long overdue manifestation of SPT in The Big Apple at a bookstore, get ready to jack your body as Drew "covers" some classic anthems and contribute to an essential cause while you are at it.





LONDON IS THE SOFT PINK TOWN FOR ME
SOFT PINK TRUTH
PEOPLE LIKE US
The NITEWRECKERS (DAVE BALL)
LE COUTEAU JAUNE
DJ TENDRAW
DJ HOWARD JACQUES
JUNE 7th, 2008
BEACONSFIELD GALLERY
Lambeth, LONDON
15 pounds, 12 pounds concession
8 pm til ?
Somehow the idea of Matmos playing a nice little informal concert in London during the "Supreme Balloon" tour with Jay Lesser has metastasized, swelling and snowballing into a three day orgiastic mystery festival at the Beaconsfield Gallery taking place on June 7th, 8th, and 9th, 2008. Call us optimistic (or gullible?).
Starting things off with a gangbang is the return of the Truth. Like all orgies, it involves getting up close and personal with some folks that you know and lots more friends you haven't met yet. Everybody gets some bruises and bugs and fuzzy memories of the hot times. Slithering from my ancient slumbers beneath the icy waves, the Soft Pink Truth will rise and take the stage to be judged by a jury of my peers. Expect DJing and or surprises from People Like Us, the live debut of The Nitewreckers, a band featuring Dave Ball of The Grid/Soft Cell infamy (!), piping hot electric mess from Le Couteau Jaune, shredding circuit-bent Casiocore madness from DJ Tendraw and plenty of left hooks from Howard Jacques of These Records legend. Things will range across the spectrum from dancey and fucked up to noisy and fucked up to simply fucked up. After you black out, you won't remember what a good time you had staggering around at this party, so take cell phone pictures.
Also, take your vitamins so that you can return for the restorative, decidedly non-party-like longform improvisation that we're all playing the next night with Matmos, Kaffe Mathews, Jay Lesser, Stephen Thrower, Joseph Ghosen, and perhaps a few others plucked from the audience (the 8th). That should allow you to restore your energies for the facemelting, double-barreled Matmos and Carter/Tutti conclusion on the 9th.
Got all that? Cool! I will see you in the pit.





THE THIRTY THREE AND A THIRD ANNUAL REPORT OF THROBBING GRISTLE: aka DREW WROTE A BOOK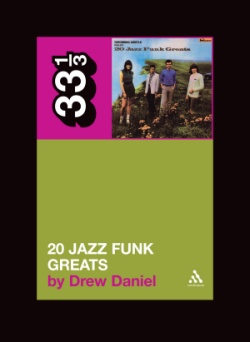 It's simply too late to turn back now: Drew Daniel is a published author. His first book is brought to you by Continuum Books as the latest installment in their 33 1/3 series of book-length critical studies of "classic albums." Improbably enough, Drew's contribution concerns Throbbing Gristle's immortal fan-puzzler "20 Jazz Funk Greats". The book jerks back and forth between interviews with all four members of the band and Drew's own interpretive heavy breathings, and includes a never-before-published photograph of the album's mastertape taken by Chris Carter and an illustration from the notebooks of Genesis P. Orridge. As with christening a ship, the reproduction of a commodity is never complete without the apology for the first gaffe, flub, or typo discovered therein, and Drew's book is no exception to this rule. Sensitive readers will no doubt curl their lips with disdain when they turn to page 134 and see the following quote introducing Drew's analysis of the song "Walkabout":
"Arise and walk about in the land, in the length of it and in the breadth, for I will give it unto thee." Genesis 13:17 (Tndale Translation).
Who, you may well ask is Tndale? Dear reader, the intended reference is to William Tyndale, the Bible translator martyred for his efforts in 1536. Nobody's perfect. Seriously, all typos aside, Drew is awfully happy to bring this text to print and eager to chat about it so if you want to, um, interview him about his text please email him at: dr dot drew dot daniel at gmail dot com. As of today you can buy the book in a real honest-to-god bookstore or you could snag it online too.





SOFT PINK TRUTH SECRET WAREHOUSE RAVE SURPRISE
Soft Pink Truth
Food for Animals (CD release party)
Gowanus Bay Funeral Marching Band
Snack Truck
at the Floristree
on Saturday, December 1st, 2007
Baltimore Maryland
show starts at 8 pm
Careful readers will note that we are not giving out the address of the Floristree - that's cuz it's hush hush on the QT, strictly for the underground and for those who know. Just ask around in Baltimore and people will tell you where to go. This is my first show in the United States in 4-eva so please come brush away the cobwebs and celebrate at the record release show for Bmore/DC crew Food For Animals. There will be videos and costume changes and beats. Dress to express.





OCTOBER, 2007:
It's been a long time, I shouldn't have left you, without a dope beat to step to . . . Yes folks things have been awfully, awfully quiet around these online SPT parts for far too long. What can I say, except that I have been busy stalking tenebrous and cloven-hooved through the tenebrous abysses of academe, finishing my dissertation and getting my PhD, doing Matmos crap, moving to Baltimore, writing a book about Throbbing Gristle, etc. Terribly busy, you must understand . . .
THE SOFT PINK TRUTH IS DEAD; LONG LIVE THE SOFT PINK TUBE
Holler with me now: "Ancient Spirits of Evil, Transform this withered body into . . . The Soft Pink Tube". That's right, The Soft Pink Truth has not died, but has undergone a sea-change into something rich and strange: The Soft Pink Tube, an evil alter-ego whose source material is gathered entirely from web audio. Think crappy three second You Tube clips that no one watches or comments upon, uploaded demos and audio shareware ephemera, General MIDI instruments no one should use, ancient homepage anthems: every sample in the new Soft Pink Tube material is generated by the faceless huddled masses "swinging in the hammock of the Internet", to quote the poet Fred Seidel. And it's all going to be disseminated for free and uploaded back into the same great sea of trivial garbage from which its constituent elements crawled. Need a penny? Take a penny. Have a penny? Leave a penny. In the manic and overstimulated spirit of the new post-capitalist endtimes, here's a Soft Pink Tube track entitled "Party Pills"; every sound was gathered by typing the word "Party" in as a search term on You Tube and sampling and sequencing and manipulating the results.





DECEMBER, 2005:
Hey there folks, I am sorry that I haven't updated this thing in forever, I have not been idle, but, hey, as they say, "change happens behind a screen", well at least they say that in China when they're talking about economic restructuring and it kind of applies to my disco side project too. Here's what has been going on in Soft Pink Truth land . . .
WE DIDN'T INVENT THE REMIX
We just took part in it because it's fun. The main Soft Pink activity of late has been remixing. Since I last filled you in, I have now completed remixes of Drop The Lime's "Glassy Eyes", Eats Tapes' "Mystery of the Rainforest", Fischerspooner's "Never Win", Grizzly Bear's "A Good Place", Safety Scissors' "Sunlight's On the Other Side" and Franz Ferdinand's "Do You Want To?". Drunk on the creative pollen and ambrosial nectar of it all, I buzz and flit between record company flowers from Tigerbeat 6 to Capitol to Scape to Domino to Kanine and back again. Some mixes are out already on the popular vinyl and CD formats and some aren't yet out. I just got the test pressing of the Franz remix (with a wicked Metronomy mix on the other side) and it should be sent out to folks in the know in the next little while. The Fischerspooner and Grizzly Bear remixes are out, and the Safety Scissors, Eats Tapes and Drop the Lime ones are supposedly imminent. So prepare yourselves.
Blowing the mummy dust out of my eyes and descending into the crypt of ancient history, I have recently discovered that after four (4!) years of hibernation ordinary citizens can now feast upon the Otto von Schirach "Armpit Buffet" remixes avalanche courtesy of Bleep.com and Schematic. Available only as a suite of mp3s, you can hear the Soft Pink Truth "cover" of Otto von Schirach's tune "Whip me Down" if you truck on down to Bleep.com and cough it up. I am quite proud of this cover, it features Blevin Blectum singing her own customized rewriting of Otto's lyrics and a rad bass sound by M. C. Schmidt. It's definitely one of my favorite SPT remixes that I've done (sorry to blow my own armpit horn here) and was kind of the genesis of the idea to do a "covers" record. And it's yours for mere pennies.
SOFT PINK TRUTH TONGUE HOCKEY WITH XBXRX
I've been a pain in the ass lately about playing shows, I'm just too swamped with schoolwork and finishing-the-Matmos-album neurosis to say yes to the many kind requests that I get to play Soft Pink Truth shows. But when I got the chance to play with XBXRX, I knew I just couldn't wimp out. They are awesome live, and it turns out the whole lineup for this show is going to be cool:
Tuesday, January 3rd
XBXRX
THE SOFT PINK TRUTH
7 YEAR RABBIT CYCLE
16 BITCH PILE UP
The Bottom of the Hill
1233 17th Street
(415) 621-4455
$8
ALL AGES
Come on down and participate. This will be my last show for a long time as The Soft Pink Truth so if you were planning to denounce me in public, this would be the best time to do it.
RE/FUSE PASSES THE MIC
As you may know, the last Soft Pink Truth album "Do you Want New Wave or Do you Want the Soft PInk Truth?" was an album of covers of punk rock and hardcore tunes. So I was stoked when an actual, honest to God hardcore zine (Re/Fuse, from Amsterdam but in English) wanted to talk to me about why I did that and what hardcore means to me. I had a good talk with Matt Plezier (real name?) and he gave me a rad record by Das Oath too. Regardless of my ramblings, Re/Fuse is a great and thoughtful zine, so check out issue #4, which has interviews with Ian McKaye, The Soft Pink Truth, Shikari, Look Back and Laugh, and others, and some cool articles (Thomas Hirschhorn!) as well. Check em out at www.refusefanzine.com





JUNE 24th: SPT AKTION IN OAKLAND FOR DAX
As you may already know, Bay Area musician Dax Pierson sustained a critical injury to his spine while his band Subtle was on tour. Dax's Anticon friends have arranged a worldwide series of benefits to help raise the funds needed to continue to support Dax's recovery; Matmos played one these shows at the Bottom of the Hill and it was a great success at rallying support. In order to keep this momentum going (as Dax's need is great, and the medical bills are extensive), there's going to be an Oakland benefit to continue this effort to provide support for Dax, and this event is spearheaded by KALX DJ Carnacki alongwith some of Dax's friends and co-workers at Amoeba Records. Here's the show info:
irr.app.(ext.)
THE SOFT PINK TRUTH
MOE!KESTRA
FRENCH RADIO
plus: BARELY HUMAN DANCETHEATRE
Friday, June 24th, 2005
LOBOT Gallery
1800 Campbell St (at 18th St.)
Oakland, CA 94607
(510) 798 6566
door price and door time info to follow . . .
As an additional bonus, at the show there will be a compilation with new tracks by Matmos and irr.app.(ext.) and some famous people whose names we can't say yet; all proceeds from this compilation go to support Dax. Please come and show your support for a very worthy cause, and have a cool time to boot. There are some top secret DJs that are going to be involved as well but we can't say their names. Like the song says, what we do is secret.





THE SOFT PINK TRUTH SEZ: STAY UP LATE AND RAVE
4:15 AM is very early in the morning. Or is it very late at night? Any way you slice it, you'll need to take plenty of power pills in order to have the requisite pep to make the scene when The Soft Pink Truth takes to the stage at the Sonar Festival this year in Barcelona. Drew is on after Le Tigre and before Laurent Garnier (sweet!) at Sonar Dome on Friday night, June 17th. There will be some new songs, new outfits made from nasty lycra-velevet blends, some golden oldies, and a brand spankin' new world premiere collaboration going down onstage: Sue Cie, aka Sue Costabile of Gold Chains/Orthlorng fame n infamy will be on hand. Sue will be constructing realtime video for the whole show with some live camerawork, complex MAX/Jitter programming environments, and top secret hands-on techniques. She's classy like that. So drink an entire pot of coffee and pogo til sunrise with us and 25,000 friends you haven't met yet.





STEP INTO THE SOFT PINK TRUTH'S VIDEO FOR "KITCHEN"
Hello Artlovers, here comes a brand new Soft Pink Truth video, available for download on the brand new Soft Pink Videos page! This video, for the song "Kitchen", was made by Nate Boyce. Nate primarily works with Jitter/MaxMSP but decided to forego his high-tech trickbag for something more hands on and retro for this video. Martin and Drew got dressed up in ridiculous costumes (Drew's wearing a purple lamé fantasy cape custom made for him by Jeremy Scott, and those are the jeans and Black Flag t-shirt he wore at the age of fifteen in high school) and acted out the song in front of a blue screen and then 70s style video feedback was chroma-keyed in around our capering crusaders. The results are a wee bit like the Neneh Cherry video for "Buffalo Stance" (maybe?). Nate Boyce is a student at the San Francisco Art Institute and part of the synthesizer trio Phase Chancellor and the noise band Men Against Mountains (with Christopher Willitts and others). Enjoy!





SOFT PINK TRUTH LIVE AT CLUB MACHO
Now we all know that "Rendez-Vu" is the name of a disco-burner by Basement Jaxx; but did you also know that it's the name of a notorious gay bar on Polk Street in San Francisco? This fine institution plays host to a monthly party which is pretty much the grooviest SF club night going on, called Macho. Past Macho nights have found the club hosting the launch of Brontez' queer zine Fag School, people dressed as farm animals in faux pens straight from a Lil' Abner school play, random hipsters selling screenprinted fluorescent underwear, people covering the dancefloor in sod (which was brilliant), and having sussed DJs like Ari Tubesteak, Chunxx and Hunxx from Gravy Train!!! and an exclusive wrong-speed set from Da Hawnay Troof (vastly improves many pop records). Plus they always make really lovely flyers; check this one out: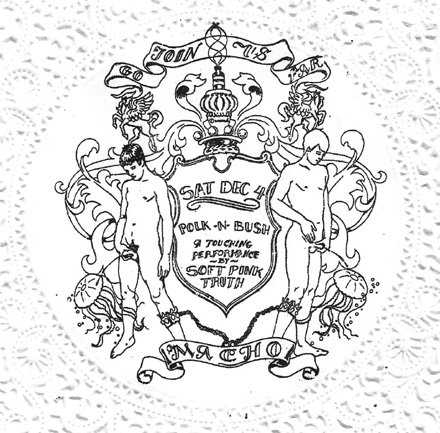 We are saddened to announce that the LAST EVER Macho club night will be this upcoming Saturday December 4th; the night will feature a live Soft Pink Truth performance with special new video fixins' and plenty of wardrobe malfunctions. Some come on down and shake your body...
SOFT PINK TRUTH live
MACHO at Club Rendez-Vous
Saturday, December 4th, 2004
1312 Polk Street
San Francisco, CA





DO YOU WANT NEW WAVE OR DO YOU WANT THE SOFT PINK TRUTH?
This website has been whipped up just in time for the imminent release of a new album, which is called "Do You Want New Wave or Do You Want the Soft Pink Truth?". In a shaky alliance of international financiers, it comes out on CD in the good ole US of A on Tigerbeat6 and on CD and vinyl LP on Soundslike in the UK, Europe and Japan.
As some of you may have noticed already from web tattlers and leaks and such, this is a record of covers. Its working title was "A Comparative Analysis of Ideological Positions in English Punk Rock and American Hardcore Songwriting" and there is a detailed graphic exposition of that gambit here. For those who can't read Drew's handwriting, here's a breakdown of the transatlantic anarcho-syndicalist hootenanny:
1. Kitchen (L. Voag) vox: Drew
2. Do They Owe Us A Living? (Crass) vox: Vickie Bennett
3. In School (Die Kreuzen) vox: various unpaid superstars
4. Media Person / Vampire State Building (Rudimentary Peni) vox: Jeremy Scott
5. I Owe It To the Girls (Teddy & The Frat Girls) vox: Blevin Blectum
6. Out of Step (Minor Threat) vox: Dani Siciliano
7. Real Shocks (The Swell Maps) vox: Drew
8. Confession (Nervous Gender) vox: M. C. Schmidt
9. Homo-Sexual (The Angry Samoans) vox: Drew
10. Lookin' Back (Carol Channing) vox: Drew
Having given credit to both the original performers and the trusting accomplices, let the masochistic throat-clearing and clarifications begin: astute readers will have noted that track four is identified above as "Media Person" and NOT "Media Friend". That's because "Media Person" is the correct name of the Rudimentary Peni song in question. There is a rather embarassing error on the printed artwork for the album; thrown off by the absence of the actual phrase "Media Person" in the song's lyrics, Drew mistakenly titled the song "Media Friend" and thus blew any pretensions towards scholarly accuracy. Consider this his public apology to Nick Blinko and company. You are urged to take out a sparkly glitter pen and correct any copies you come across.
We have also been informed by some former members of Nervous Gender with whom we are palsy walsy that "Confession" always had an alternate title "Jesus' Clone", so make a note of that too if you don't like the Ann Sexton-ish overtones of "Confession".
Also, note that our parenthetical category above refers to the original performer of the song in question, not necessarily its author. We do not wish to slight the considerable talents of Jule Styne (music) and Leo Robin (lyrics), who wrote the song "Lookin' Back" for the Broadway musical "Lorelei". For a contrary position on their impact on American music, go to UBUWEB and check out page 2 of Lou Reed's essay "The View From the Bandstands" for Aspen magazine, issue number 3 circa 1966.





THE TRUTH IS MARCHING IN
In order to squander the international goodwill generated by the new album, Drew will be performing live in a (very) select series of European shows. We can tell you that new video work, new tunes, and lots of stitch-witchery are going into these performances. Here's the story so far:
Thursday, November 4th: Amsterdam, Paradiso Theater
Friday, November 5th: Turin, Cafe Procope/Club to Club Festival
Saturday, November 6th: London, FABRIC w/Brooks, DJs Matthew Herbert and Raphael Rundell (aka The Soundslike Sound)
There will also be a live manifestion of The Soft Pink Truth in San Francisco towards the end of November:
Monday, November 22nd
Mighty Club, 119 Utah St. / 15th (one block South of Portrero St.), SoMa
$12 at the door
Hawnay Troof (Kill Rock Stars) - live
Soft Pink Truth (Tigerbeat6) - live (11:15 pm)
DMX Krew (RePhleX / Breakin') - live
Caltrop (Tokyo Electric) - DJ