Mission of Burma, "ONoffON"
Matador


Everything new is old again with a rash of reunions among some of the more seminal bands in underground music, returning to eager audiences no longer placated by the throngs of modern bands who wear their influences all over their faces and not just on their sleeves. Spurred on by the critical and creative success of Wire's scorching millennial releases, Boston's Mission of Burma decided they had more to say, in spite of twenty two years of inactivity and vocalist/guitarist Roger Miller's severe tinnitus. Though any attempt at recapturing the spark of decade's past is a gamble, ONoffON sounds like it could have come just months after Burma's sole LP, 1982's Vs. The original members (with Bob Weston, replacing Martin Swope as the band's tape manipulator) demonstrate that they have not lost any of the strength, verve, and creativity that define their early releases and that the off time only deepened the maturity and intelligence that sets them apart from their contemporaries. The slicing snarl of the guitars at the opening of "The Setup" is a welcome sound, with the trademark metal on metal grinding signaling that Burma is ready to pick up right where they left off. Indicative of this transition from then to now is the inclusion of three previously unreleased Burma songs that have been kicking around for twenty years, "Hunt Again," "Dirt," and "Playland." These tracks, until now only available on a compilation of outtakes, appear in much more searing versions, particularly "Playland," which squalls with fuzzy dissonance amidst Miller's abusive vocal delivery. Miller offers up some of the most incindeary songs of the album. "Wounded World," is a swirling accusation with a tuneful, shouted chorus that positions the song as an epic rallying cry, a call to arms that begs raised voices to join in. Rivaling that force is Peter Prescott's "The Enthusiast," a barking, braying track with a relentless riff, deep and full bodied. "What We Really Want," written by Clint Conley in collaboration with poet Holly Anderson (who also lent her talents to Vs's "Mica"), is a pensive, brooding track that underscores Burma's ability to craft an intense rocker that finds its energy not just in speed but in meaningful, expressive tension that unfolds with care. Conley's contributions recall both his early songs with Burma and his more recent outings with his band Consonant-intricately crafted and concerned with a poetic connection between his words and music. Miller's "Falling" also captures this sensibility, retaining the rough edged sounds of Burma, but augmenting it with subdued acoustic guitar and an emphasis on the cerebral flairs both musically and lyrically. Burma was never one for typical rock formulas, toying with things like dissonance, tonality, and song structure to develop songs that were jarringly fresh and enticing. ONoffON is a remarkable record, standing just as tall as the rest of the catalog and almost surely cementing Mission of Burma as a potent force, not just for their influence on today but for their new endeavors as well. - Michael Patrick Brady
samples:
"SATAN PLACE"
Hanson
Surely one of the oddest items I've come across in quite a while, is this cassette-only album released in the midst of the digital DIY age of the CD-R. The tape consists solely of a 60-minute interview and jam session with a group of Satanist teenagers from upstate New York in the early 1980s. I'd actually heard about this recording years ago, one of those "cult items" that was heavily traded among the 80s cassette underground types. The Ecstatic Peace label had this item on their release schedule for years, but it never saw the light of official release until Hanson Records, home of Wolf Eyes and a handful of other neo-noise bands, recently issued it as a joint release. The premise is simple: a group of young, self-professed Satan-worshippers talk about their lifestyle with a bemused interviewer who keeps pressing them for more details about their rituals, frequent drug use and their extensive criminal behavior. Throughout the interview, one or another of the interview subjects retreats from the recording device to noodle away on a cheap synthesizer or noisily jam on an electric guitar, trying to invoke all of the majestically dark Black Sabbath and Judas Priest riffs deeply embedded in their imaginations. The kids are startlingly zealous and clearly idiotic, unable to effectively articulate even the simplest concept behind their divergent religious beliefs: "We believe in Satan and shit...We think he's the dark lord and we like to do fucked-up shit in his name." Their intense North Eastern accents and lower middle-class bearing typifies a certain type of rabble-rousing heavy metal fan that existed the early 80s—the burgeoning of the teenage mall-kid culture that eventually gave birth to atrocities like Marilyn Manson and the current glut of soulless rap-metal. Every statement from Satanic ringleader's mouth creates a strange mixture of laughter and horror: laughter at the puerile silliness of a bunch of acne-ridden teenagers professing love for the Antichrist; and horror at the startling vapidity and amorality of this group. These are future sociopaths in the making. I don't think it's a coincidence that these recordings were made just before a string of highly publicized ritual murders that took place in upstate New York, eventually leading to the arrest of a group of young heavy metal fans and admitted Satanists. It's impossible to know if these are the same kids captured so candidly on this cassette, but I like to assume so. I wasn't able to provide a picture of the grinning, mulleted adolescent on the tape sleeve with this review, because the Hanson Records website has suddenly and inexplicably disappeared from the web. No other online vendors or distributors (that I could locate) are selling this little artifact, so Satan Place will most likely slide into a nether-world of irretrievable obscurity. That's probably as it should be. - Jonathan Dean
samples:
It's a cassette, and I'm not technically proficient enough to make MP3 samples. Sorry.
Thee Silver Mountain Reveries, "Pretty Little Lightning Paw"
Constellation


Creating some of the most hauntingly beautiful music seems to come easily to the members of the gy!be nuclear family, but on this EP the sparse ensemble creates some of the most honest and unorganized music of their careers. What started out as Efrim's studio noodling soon broke out into more collaborative sessions, and eventually the songs were becoming something so special that they deserved and beckoned to be finished. It's somewhat of a mixed bag in terms of pacing and subject matter, and the songs come off as a bit of a sampler platter of the different bands that these members play in. The more the CD progresses, however, the more I got the feeling that this music is getting further and further away from the pure drama and epic dynamics of the mothership group and more into the territory of smaller character pieces. The politics are still present, notably in the first moments of the EP where echoing shouts of "More Action! Less Tears!" are heard and on the second track "Microphones in the Trees," a paranoid study of the relentless monitoring of a nation's citizens. Through it all, Efrim is becoming a more capable and stronger vocalist, and the four voice choir adds real gusto to these fairly simple songs. As usual, my pulse quickened any time there was a swell in the song, where the instruments rose in volume or the playing became more fervent, but even during the quieter, subtler moments I was still entranced. The raw energy of "More Action! Less Tears!" is certainly welcome, especially considering the quiet nature of most Silver Mt. releases, and even though there is an incredibly sloppy rhythm that never maintains a consistent timing, it's still a hair-raising affair. Then the band descends into nigh-Cerberus Shoal territory on the aforementioned "Trees," with odd vocal prowess and gentle piano and guitar. The strangest and most captivating track is the last, where Efrim goes it alone with toybox and guitar, letting whatever strikes his fancy escape his lips. The track represents his most assured lyrical and vocal performance ever, and the beauty of the whole release will capture me again and again whenever I listen to it. - Rob Devlin
samples:
Raising the Fawn, "The North Sea"
Sonic Unyon


Whenever the weather gets warm, and my seasonal affect disorder slips back into hibernation, I tend to want to put away my stacks of aggressive noise discs and cuddle up to something a little more comfortable, a little more bright. Last year around this time, the choice was A Northern Chorus' Spirit Flags, a brilliantly pretty record that made up for a lack in dynamicism with some gorgeous, soaring melodies born out of the shoegazer ethic. So it is not entirely by surprise that friend and labelmates Raising the Fawn are an early contender for a prime spot on the springtime soundtrack. Led by Broken Social Scene contributor John Crossingham, Raising the Fawn's The North Sea is another brisk breeze of northern air to flush out the senses. The band has crafted a collection of memorable melodies and vocalizations that dazzle in a diverse group of songs that are sometimes comforting and sometimes unsettling. In either case, the songs are well designed to leave a lasting impression. "Gwendolyn" is an effervescent blast with a looping, springy backbeat. The vocals are lively and vibrant, as Cunningham devastates the wistful, tender lyrics with an expertly employed falsetto. "July 23rd" is the fuzzy, dejected ballad that chronicles an inconceivable loss with such aplomb and an affecting arrangement that simmers in the brushes as they coast across the cymbals and the snare heads, sounding like the sea spray against the rocks. The intricacies of The North Sea elevate the subject matter of isolation, loneliness, the remote alienation they illustrate with imagery of derelict ships and drifting captains, so that the darker tones are polarized and ultimately uplifting. The peaking choruses of the title track are a perfect example of the lushness of Raising the Fawn's sound shining through the conceptual mists they have cast around themselves. The richness of the band's sound conjures up a slightly less unhinged version of the full-band Songs:Ohia of Magnolia Electric Co.. The final two tracks, which register at just over ten minutes each, are heavy hitting pieces. "Drownded" surges ahead with dense squalls of guitar that erupt in a collision of chords and expansive post-rock elaboration. The song is a massive presence on an album that built its foundation on spacious melodies and singing, a true climax. "E.T.A." finds Raising the Fawn collapsing, emotionally rather than stylistically, under the drama of their subject, sprawling out in an appropriately stirring last gasp. The North Sea is a perfect record for that seasonal transition, clinging to the colder thoughts but irrevocably enveloped in the searing yellow light and verdant greens of spring. - Michael Patrick Brady
samples:
"thank you"
Temporary Residence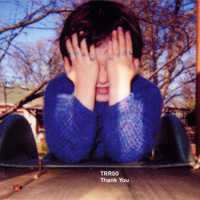 Various artist compilations are a hard sell to stores and distributors, however, I don't think I know of any authentic music fan who doesn't love them. Thank You is Temporary Residence's 50th catalogue number (however it chronologically is about the 60-somethingth release) and honors both the bands and the fans by collecting a small number of great tracks from the best that TRL has to offer -AND- uses only fan-contributed artwork solicited from the web site. Like any great compilation, it has been years in the making. (I think I remember hearing word about this back in 2001.) For Fridge fans who didn't want to spend over $30 for a Japanese import with pesky bonus tracks, the band completes their collection by donating the 9+ minute "Five Combs," which, along with "Surface Noise," (offered as a free MP3 from their website) makes up the two tracks left off the non-Japanese versions. The collection continues with various familiar faces and loads of blissful instrumental rock tunes like the acoustic fingerpicked "Jignauseum" by Kilowatthours, the hypnotic 8+ minute "Bell Jar" by Tarentel, and closing number (approporiately titled "The Closer") by Sonna. A jagged rock number from Rumah Sakhit and trippy post-nothing contribution from Kammerflimmer Kollektief, along with the only vocal track (by Halifax Pier), give the collection a little more seasoning. Label superstars Explosions in the Sky give up a rare track while Xian Hawkins, now 4AD artist, gives perhaps one of his most compelling Sybarite tracks to date, utilizing guitars and electronic processing reminding me how surprised I am that he doesn't have more snotty European music pressmongers' heads spinning. For something that's been anticipated so long and a label with as many friends as Jeremy De Vine has, 11 songs seems at first kinda slim, but clearly representative of Temporary Residence, which has always been about quality, not quantity. It does, however represent more of the past of Temporary Residence and doesn't serve as a good showcase of some of the newer groups on the roster, like Lazarus, Eluvium, Icarus, The Anomoanon, the faboo Nice Nice, Nightfist, or even Evergreen. With any luck there won't be 49 more releases until the next compilation. - Jon Whitney
samples:
Madvillain, "Madvillainy"
Stones Throw


"The finest of the fine things"... that's what MF Doom promises you about six minutes into this album, and you'll be forgiven if the first thing you think of is asshole partiers at some mansion-warming affair, puking on the rug and having sex in the pool. Instead, though, the Supervillain and Madlib throw open the doors to their very own bistro, sweeping the promise of crappy fried finger-food out into the gutter and offering up a satisfying handful of a sandwich instead. That's a fair description of what follows, too: at just a hair over 46 minutes long, Madvillainy isn't dragged down by the twenty-six guest MCs and nine-piece elephant orchestras that clog up your average MTV-flogged double album. There's an economy to the tracks (which average about two minutes apiece) that I haven't heard since Naked City or Morgan Fisher's Miniatures compilations, mainly because there aren't any choruses anywhere in, er, sight. Deprived of the chance for easy repetition, Madlib's muffled pianos and sunny-cafe accordions amble into the mix, do their thing, and depart just as quickly as the verses do. And those verses are priceless: just like Gift of Gab does with his innumerable verbs, Doom stacks absurdity on top of absurdity until he finally has to take a breath... and then he moves on. With ideas coming and going so quickly, the results should sound haphazard or cluttered, but the individual tracks and elements all flow together without a hitch, forming a coherent comic book universe all their own; for once, the ordinarily-also-ran addition of a CD-ROM video complements the music really well, too, adding an extra hit of Jack Kirby lunacy and rip-off Sea Monkeys ads to an album that just about conjures those images on its own. Surrounded by that kind of silliness, the palpable anger of "Strange Ways" sticks out something fierce: it's a clear-headed backhand at the warmongers of the world, and it connects that much harder for the contrast. There's not much else going on in the storytelling department, but the dominant scissor-swinging-pothead collage atmosphere suits me just fine. Bring Twinkies. - Taylor McLaren
samples:
Meow Meow, "Snow Gas Bones"
Devil in the Woods


The time for the great summer records has arrived, and Meow Meow have crafted one hell of a good time in their debut, though it may not seem like it at first. One glance at the album artwork with exploding flower head, or at the tracklisting with titles like "The Killing Kind" and "Sick Fixation," may not reveal this; but both belie the music found inside, even if they correctly reflect the lyrical content. Clearly this band loves melodies and musical trickery — with burbling and static sounds surrounding the opening song on the album — and there's a firm country influence that's even more evident when the pedal steel comes in. But all those pieces together do not ensure that the band knows how to wield them and shape them into their bidding. Time and time again on their debut, Meow Meow had me checking websites and discography sites asking "This is their debut?" Kirk Hellie and Christopher O'Brien are deft in their songwriting abilities, and their influences in '90s noise pop and '60s beach rock may be obvious but they still manage to make some toes tap and some smiles pour in with an originality all their own. These songs are infused with sunshine and upbeat rhythms but still have some dark imagery poured all over them. There's laments about fucking it all up to open the record on "Cracked," then talk of killing off the cool kid, then talk of leaving people for dead, and on and on about depressing and deplorable subjects, while still maintaining enough of a party rock sound to forget about it all while listening. The noise continues throughout the record, with distorted guitar, static, and fuzz effects dominating the mix on most every song. This is the most infectious music I've heard this year, though, and despite the lyrics venturing far into the morbid and disturbing, I was in a good mood from beginning to end. - Rob Devlin
samples:
27, "Let the Light In"
Hydra Head


Boston's 27 is one of my favorite local groups. It's not simply because their music is a warm welcome against the typical local average rock scene, but Ayal and Maria are two of the nicest people I think I know. Local radio colleague Tracy alerted me to their new release and I had to stop by their show at the Middle East one Friday night to see if it was true or available (well, and to say hi of course). Luckily they had some pre-release limited version that I was able to get fresh out of the box. Unfortunately, I had to be at work at 3:30 the following morning and couldn't stay for their set. Otherwise, I'd film them for The Eye (I plan on doing this eventually). So, 3:30 am hits, I'm at work suited up and driving to another rich jackasses house who doesn't appreciate the efforts I put in to get him and his family from point A to point B. I'm hating my job, really, and I'm hating everybody and the rest of the world. Let the Light In goes in for the first time and I'm simply floored. Although, I'm unfortunately so completely preoccupied that my mind drifts. It drifts so much that I'm remixing the album in my mind. Maybe it's all that Hydra Head influence, but the EP opens with a rocking guitar riff — a side of them I've never heard from the group. It's nice to realize that this band, who I've wanted to join on a number of occasions, are branching out and experimenting with new styles and finding a good amount of success. When the second tune, "Every Day" hits, it cuts through my world like a piercing needle. The impact is intense but concentrated, it doesn't disturb the surroundings but it's powerful enough to be felt. The line "May the rest of the world go away" resounds in my head, over and over and over again, and it's at this point I've decided I'm going to remix the EP today, this afternoon, into the evening or something. The disc continues with some experiments with beats and sound effects, and, while I do love the music, I must admit that while I appreciate the group being more daring in the studio, I'm somehow thinking they're still rather timid, reserved, and unwilling to step even further away from the rock outline. The fifth song hits and Maria, the singer, remains silent, although the song is a tease at only slightly above a minute long. Something has to be done. I finished my shift, went home, napped, and in the afternoon I began my duty in remixing the album. I used a basic program to loop a couple phrases from each of the song, threw the things on to CD and minidisc and put them all through my R effects rack and did everything on the fly in one take. I noticed their tour was hitting Atlanta a week from that Saturday, so I Priority Mailed the final CD to Brainwashed contributor Matthew Jeanes and told him to bring it to them but don't say who it's from. Weeks go by and on the final day before my international trip I see the notice on their website: they finally acknowledged the reception of the disc! Furthermore, the band decided to take my version of "Every Day" and put it on the Japanese version of the disc as a bonus track! (I've been remasterd by the immortal Jeff Lipton!!!) 27 are excited to tour Japan, the UK, and Europe and those who want to see how amazing some really cool Americans can be, show up and say hi. - Jon Whitney
samples:
We know that our music picks may be somewhat challenging to find, which is why we have a community section which can be used to obtain nearly everything available on this site.